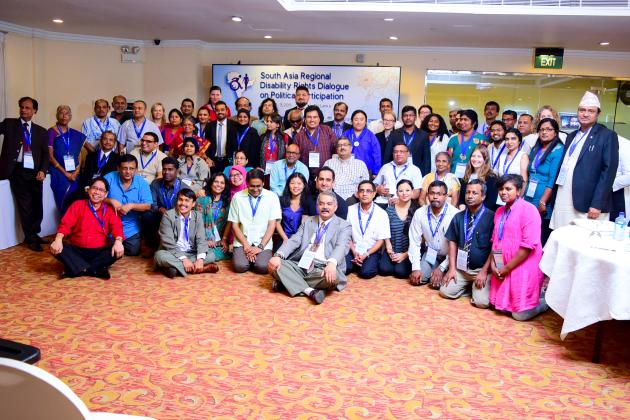 South Asian Disability Rights Advocates Secure Key Advocacy Win
From October 1-3, 2015, the first "South Asia Regional Disability Rights Dialogue on Political Participation" brought together more than 80 representatives from 34 organizations including disabled people's organizations, election management bodies, media, and international organizations from the eight countries in South Asia, and the Philippines, Indonesia and Fiji in the broader Asia-Pacific region.
The three-day conference was co-hosted by the International Foundation for Electoral Systems (IFES) and the Sri Lanka Department of Elections. Support for the conference was provided by the Australian Government's Department for Foreign Affairs and Trade (DFAT). The U.S. Agency for International Development (USAID) Maldives and USAID Nepal sponsored attendance of some delegates of the conference.

The regional dialogue was held concurrently with the annual conference of the Forum for South Asian Election Management Bodies (FEMBoSA). Participants from the dialogue worked together to prioritize recommendations for FEMBoSA, and advocated with the network to adopt inclusion and accessibility for persons with disabilities as part of their work. Advocacy efforts were successful, with FEMBoSA Commissioners adopting language on disability-inclusive elections in their Colombo Resolution and resolving to develop common minimum standards on disability-inclusive elections in South Asia.
Mahinda Deshapriya, Commissioner of Elections, Sri Lanka remarked, "It is our duty, as election management bodies, to make the electoral process accessible to all citizens with disabilities. The Sri Lanka Department of Elections was honored to host the Sixth Meeting of the Forum on Election Management Bodies of South Asia where we unanimously agreed to prioritize developing common minimum standards for disability inclusive elections on the regional level." 
On the last day of the dialogue, participants received training on the "disability rights and elections" Building Resources in Democracy Governance and Elections (BRIDGE) module, which focuses solely on political and electoral rights of persons with disabilities. The module was first developed by IFES in 2014 with support from DFAT and has been piloted with support of DFAT and USAID in multiple countries, including Egypt, Haiti, Indonesia, Nepal, Myanmar and – for the first time – in Sri Lanka.