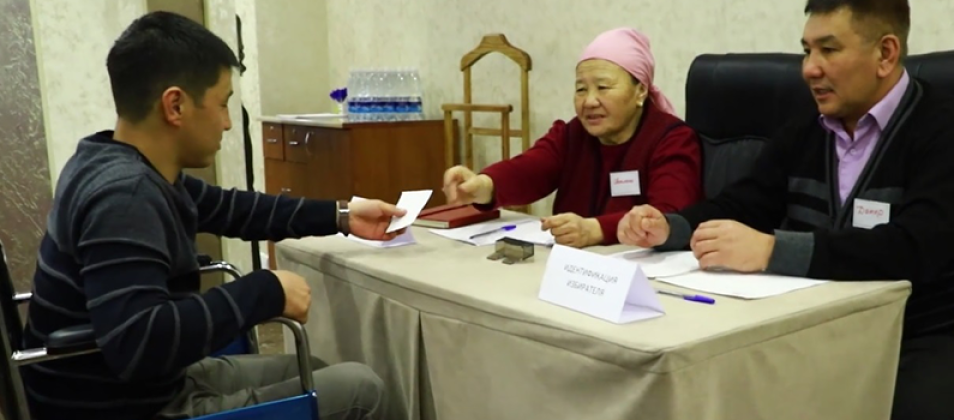 Training Election Commissions in Kyrgyzstan on Electoral Rights of Persons with Disabilities
In honor of Global Elections Day on February 6, the International Foundation for Electoral Systems (IFES), Kyrgyzstan's Central Election Commission (CEC), the Organization for Security and Co-operation in Europe (OSCE) Program Office in Bishkek and Public Foundation "Eagle" conducted a two-day training on ensuring the electoral rights of persons with disabilities for Territorial Election Commission representatives. 
This event continues IFES' long-established commitment in Kyrgyzstan to support the accessibility of persons with disabilities as citizens and leaders in decision-making processes. The training in Bishkek emphasized international and national standards for ensuring the enfranchisement of persons with disabilities, highlighting the United Nations Convention on the Rights of Persons with Disabilities (CRPD) which was ratified by Kyrgyzstan in March 2019. The event provided a practical approach to understanding the needs of persons with disabilities in the electoral process through interactive sessions. Mock elections were facilitated to comparatively demonstrate the differences between accessible and inaccessible polling stations.
As a result of the training, participants were able to discuss and identify priority measures necessary to guarantee the accessibility of polling stations to ensure persons with disabilities can vote without barriers on Election Day and fully participate throughout the electoral period.
Since 1994, IFES has played a key role in the emergence of democratic electoral processes and institutions in Kyrgyzstan. Throughout this period, IFES has pioneered initiatives to ensure the inclusion and empowerment of persons with disabilities and other traditionally marginalized groups within the electoral cycle, including comprehensive support to Kyrgyzstan's implementation of the CRPD.
Following the joint training, the OSCE produced a video capturing key elements of the event.

Follow @IFESKyrgyzstan on Facebook and @IFES_Europe on Twitter for more information on IFES' other activities in Kyrgyzstan and the region.
IFES' cooperation with the CEC in Kyrgyzstan is made possible with support from the United States Agency for International Development through the Consortium for Elections and Political Process Strengthening (CEPPS). Established in 1995, CEPPS pools the expertise of three premier international organizations dedicated to democratic development: IFES, the International Republican Institute and the National Democratic Institute. CEPPS has a 20-year track record of collaboration and leadership in democracy, human rights and governance support, learning from experience, and adopting new approaches and tools based on the ever-evolving technological landscape.