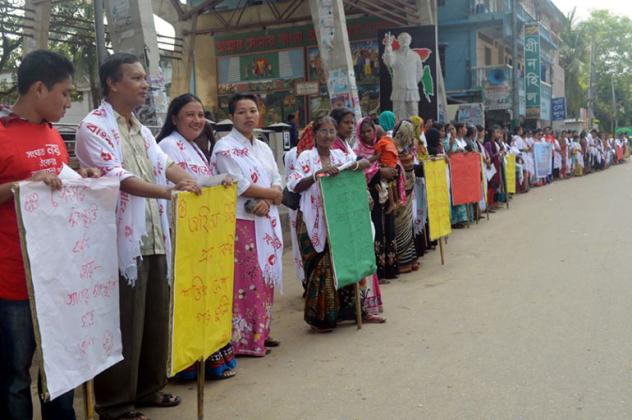 Women Against Violence in Elections in Bangladesh
The pervasive culture of political violence in Bangladesh has unique impacts on women, where intimidation, harassment, and sometimes physical violence can inhibit women's electoral and political participation. To address this issue, women themselves have a critical role to play in promoting peaceful and gender-inclusive elections.
As part of the U.S. Agency for International Development and UK Department for International Development-funded "Bangladesh Election Support Activities" program, the International Foundation for Electoral Systems (IFES) formed the Women Against Violence in Elections (WAVE) Advisory Group to bring together diverse groups of women to mitigate electoral and political violence against women, participate in innovative thinking on ways to engage their respective networks, and utilize their expertise to promote peaceful, violence-free elections. With IFES' technical and capacity building support, WAVE members have conducted their own nationwide peacebuilding events and targeted advocacy. These events increase awareness around the importance of stopping violence against women throughout the election cycle and safeguarding their right to vote.
Organizing for Peace
In March 2015, WAVE members commemorated International Women's Day in the Chittagong Hill Tracts – an area with historically high rates of violence – with a public rally of over 200 women and men. During the rally, participants wore t-shirts and scarves emblazoned with the message "Stop violence, build a united Bangladesh."
Following the rally, WAVE members held a town hall meeting with local election officials; a women's affairs officer; local indigenous leaders such as karbari, headwomen and headmen; women journalists; and civil society members. As part of the town hall, WAVE members facilitated a conversation on the importance of addressing violence against women in elections. Through WAVE's facilitation, community members who rarely work together were able discuss how domestic violence and other forms of violence against women often escalate during electoral periods. Participants also called for increasing women's roles within local administrations – including through elected positions.
"My sister … currently headwoman, received a nomination from an eminent party, but she could not continue through the election. She had to leave her birth place; forced to flee from the locality during the election. She even had to go into hiding for a long time." – Town Hall Participant
In addition to the March rally, WAVE worked with IFES partner The Hunger Project-Bangladesh to hold 117 rallies reaching 52 districts nationwide in observation of the International Day of Non-Violence in October 2015. The rallies – which focused their messaging on the importance of peaceful electoral processes – had over 18,000 participants including political party members, elected officials, civil society, journalists, media, and social activists. WAVE's critical role in organizing the rallies contributed to the impressive turnout of this nationwide event.
WAVE Advisory Group members have carried out numerous other local peacebuilding events and advocacy initiatives. One such initiative – Women Count – is a voter registration campaign that works with the Election Commission and nine other civil society partners to promote the inclusion of women voters on Bangladesh's updated voter registration list. WAVE members are also working with IFES to conduct a study on the effect of political and electoral violence on women's participation. Through these and other initiatives, WAVE members play a critical role in identifying ways to mitigate electoral and political violence against women and developing common advocacy platforms to promote peaceful, violence-free elections.