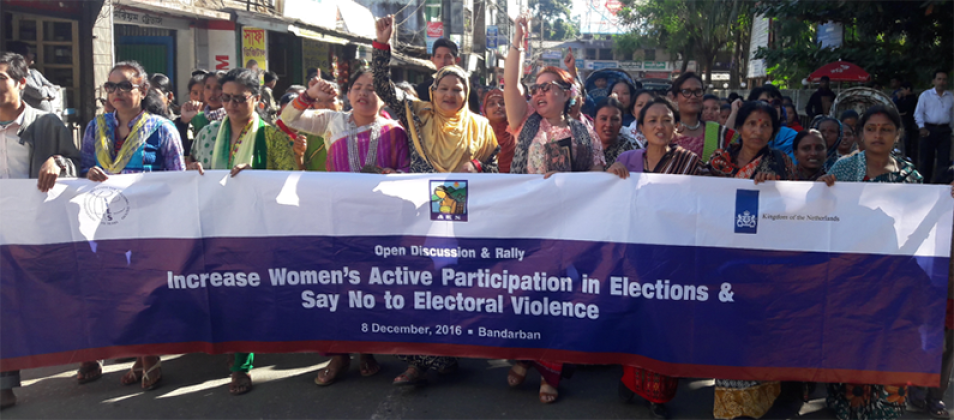 Assessment of Online Violence Against Politically and Civically Engaged Women in Bangladesh
Globally, women regularly face violence online, with the COVID-19 pandemic leading to increased levels of violence as people engage more frequently in online spaces. This violence often becomes even more significant for women who are politically and civically engaged, particularly those who face compounding discrimination, such as women with disabilities and women from ethnic or religious minorities.
In 2019, the International Foundation for Electoral Systems (IFES) conducted an assessment of online violence against politically and civically engaged women in Bangladesh. IFES designed a mixed methodological study that incorporated quantitative analysis of large-scale data from public content on Twitter, Facebook and YouTube with qualitative data gathered through focus group discussions with a range of stakeholders. The approach analyzed trends in online violence against women in politics in five key categories: sexual violence, psychosocial violence, physical violence, homophobic violence and religious- and ethnic-based violence and found that online violence against women is pervasive. This assessment outlines recommendations specific to Bangladesh while also contributing to global research on this important issue. 
While Bangladesh has made significant efforts to address the marginalization of women through a legal framework that addresses both violence against women and women's political representation, IFES found that a number of legal gaps and lack of implementation (or mis-implementation) of relevant laws remain a key barrier to justice and redress for women in Bangladesh.
Key Findings
Perpetrators of online psychosocial violence often engage in character assassination and defamation. Within the Bangladesh context, such rhetoric can deeply harm a woman's reputation and deter other women from running for office.
Perpetrators of online violence also play into the gendered stereotype that women are not intelligent enough to be political leaders.
Both women politicians and women engaged in civic activism face threats of online violence.
Widespread impunity for online violence against women has discouraged many from seeking redress. Furthermore, women who seek redress often face backlash for doing so.
While Bangladesh is constitutionally secular, women leaders who are religious and ethnic minorities are often targeted by online perpetrators aligning themselves with majority religious and ethnic identities. However, such violence also targets women political leaders from majority religious and ethnic groups. In some instances, perpetrators of online harassment seek to defame women by questioning their religion (e.g., purporting that a woman is a member of a religion to which she does not actually belong).
There is a clear connection between online violence and offline violence. Perpetrators may combine online harassment and harassment in the real world, or they may escalate from online violence to physical and sexual violence.
Lack of digital security also poses a major issue for Bangladeshi women online and can make them vulnerable to attacks from anonymous hackers. Cybersecurity legislation and enforcement of digital security has thus far been either absent or misapplied to limit free speech.
Homophobia and transphobia are often used to discredit politicians and reinforce the standards of heteronormativity and hypermasculinity that dominate politics. This contributes to a toxic and exclusionary environment of intolerance and exacerbates social cleavages along the lines of sexual orientation and gender identity.
Threats of sexual violence were among the most common form of online violence against women uncovered by the study. Analysis of public content on Twitter, Instagram, Facebook and YouTube identified a total of 553 posts in English and 158 posts in Bengali that contained sexual violence. Sexual abuse can include politically motivated rape as a tool for terror and intimidation, marital rape as a tool for repression and sexual harassment as a tool for humiliating and disenfranchising targeted survivors. Such violence often permeates online spaces, particularly in Bangladesh's political spehere. Social media users often lash out against highly visible female politicians in an attempt to discredit and demoralize them for sharing their political platforms and asserting their political agency.
Lack of digital security poses a major issue for Bangladeshi women online and can make them vulnerable to attacks from anonymous hackers. Social media platforms in Bangladesh can hinder women's political participation by facilitating the spread of violent, abusive and denigrating messages. Women receive a broad range of abusive online content aimed at exaggerated and distorting their public and private personas to dissuade them from participating in politics and engaging in social activism.
Based on these trends, the assessment identifies several urgent recommendations to mitigate online violence against women public figures in Bangladesh.
Recommendations
The government should work to pass enforceable legislation that specifically protects women from online harassment and hate speech and is applied equally and fairly, regardless of political affiliation or status. The government should also train or conduct advocacy with the Bangladesh Telecommunication Regulatory Commission on online political gender-based violence and how to address it.
Political parties and electoral institutions should play a more active role in combating online violence against women. Political parties and the Bangladesh Election Commission (BEC) should conduct widespread civic and voter education to encourage women's political participation as voters and candidates and educate voters about civil behavior online during election periods. BEC staff and political party members also need to be trained on methods for identifying and addressing online violence against women candidates. Support and clear mechanisms for redress are necessary to protect female candidates facing harassment and violence online.
Civil society organizations and program implementers should provide multiple forms of support to women, including direct mental health assistance and psychosocial support to women who are survivors of online abuse and harassment, as well as cyber-hygiene trainings for women to address digital security issues of hacking, doxxing and social media impersonation. To address more systematic issues around online violence against women, civil society can take a lead role in training journalists, fellow citizens and voters on how to identify and report on online violence against women and launching initiatives to build allyship among men. Civil society must work to identify and address the root causes of online violence and mainstream online harassment and violence against women into broader programming on violence prevention.
Published on April 6, 2021.