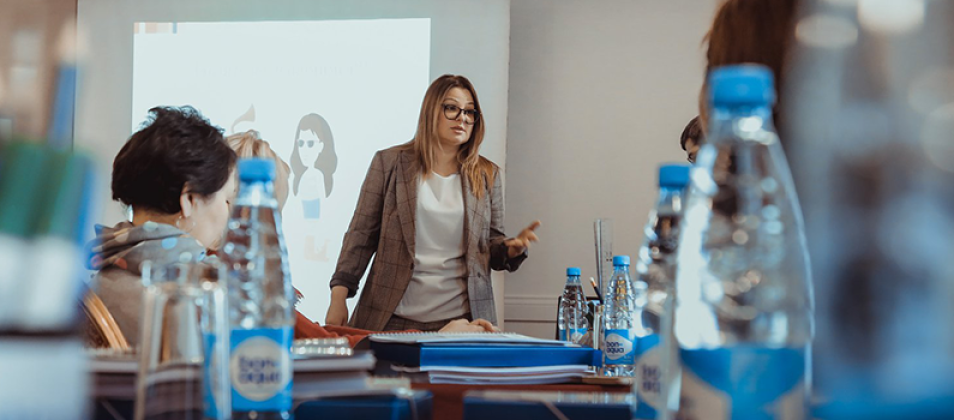 Women of IFES: Q&A with Renata Levovski
by Daria Azarjew*
The International Foundation for Electoral Systems (IFES) is at the forefront of innovative and inclusive work to provide citizens around the world with the fundamental human right to have a say in how they are governed. IFES' leadership in the field is comprised of a cadre of women professionals with firsthand experience administering elections in every region of the world. This Q&A is part of the "Women of IFES" series, featuring stories throughout the month of March on the contributions of female IFES staff around the world and marking both Women's History Month in the United States and International Women's Day on March 8.
IFES Chief of Party for Kyrgyzstan Renata Levovski is a technical expert in electoral systems and processes, overseeing project implementation, operational and financial management, and the grants management process. She has extensive experience in the management and training of electoral bodies, the electoral process, electoral law, election observation and election dispute resolution. Renata holds a master's degree in business administration from the Universidad de Postgrado in Spain and is currently a Ph.D. candidate at the University of European Studies in Moldova. She also holds a bachelor's degree in law and has more than 18 years of legal experience. She is fluent in English, Romanian, Spanish and Russian, and is a fully-accredited Building Resources in Democracy, Governance and Elections (BRIDGE) workshop facilitator. Here, Levovski reflects on her professional journey in democracy development, the different countries where she has worked and the many salient issues she has been able to address through her career at IFES.
What drew you to IFES and the field of democracy, rights and governance?
I joined the electoral field in 2004 when I was appointed to the District Election Commission in Chisinau, Moldova. I was excited for this role because I felt it would allow me to meaningfully contribute to the development of democracy and good governance in my country. The following year I was elected vice chair of the Central Election Commission of the Republic of Moldova. In this capacity I worked closely with various international organizations and was responsible for training electoral stakeholders and lower election commissions, promoting civic education and voter information and improving election dispute resolution. Through this experience I discovered IFES' work on these issues in Moldova and decided to link my professional life with IFES.
How have you supported IFES' efforts to advance good governance and democratic rights?
Over the past 14 years, my work has focused on the field of electoral management, observation and assistance to election management bodies (EMBs), including eight years of providing technical expertise to national EMBs in Kyrgyzstan, Tajikistan, Ukraine, Turkmenistan, Honduras and Moldova, and more than six years of managing EMBs. I've had the opportunity to work as both a national and international expert for IFES in Moldova, Ukraine and Kyrgyzstan.
In Moldova, we were able to contribute to the improvement of the electoral process – in particular, voter registration – as well as develop the Center for Continuous Electoral Training, which helped ensure the sustainability of our work. In Ukraine, we provided technical electoral assistance, and I worked closely with the Central Election Commission of Ukraine and local nongovernmental organizations. In Kyrgyzstan, we strive to continue improving electoral legislation and voter registration and focus a lot of our efforts on youth civic education and the inclusion of disenfranchised groups such as persons with disabilities.
How is IFES well-positioned to overcome challenges in promoting democracy and political participation?
IFES has worked in Kyrgyzstan for more than 20 years and has observed the country's democratization process from scratch, from the introduction of biometric identification to the automatization of the electoral process. Currently, there are ongoing discussions to introduce electoral legislation reforms regarding abuse of state resources, prevention of vote buying and political finance – many of which are unprecedented areas of work in the country. IFES possesses a strong expertise in these areas and approaching different stakeholders in a professional, impartial and transparent way while collaborating with government, civil society and electoral bodies. It makes IFES uniquely poised to provide electoral expertise without political affiliation.
The issues of people and voters with disabilities have been historically neglected in Kyrgyzstan, but now society is beginning to pay greater attention to the barriers they face and taking them into consideration across various aspects of political and social processes.
What have been your proudest accomplishments in your work with IFES?
In Moldova, IFES contributed to the launch of the now well-known Center for Continuous Electoral Training and supported it throughout its development. I am proud to share that IFES Kyrgyzstan's key partners – the Central Election Commission (CEC) and State Registry Service – are in the process of developing their own training centers following the Moldovan example. I am also proud to say that in Kyrgyzstan we have been able to raise awareness of equal rights and access of persons with disabilities. In [collaboration] with the CEC, we established a working group on improving electoral rights of voters with disabilities, which has already achieved major results and developed an ambitious plan to be implemented prior to the 2020 parliamentary elections. The issues of people and voters with disabilities have been historically neglected in Kyrgyzstan, but now society is beginning to pay greater attention to the barriers they face and taking them into consideration across various aspects of political and social processes.
What advice do you have for other women working in the field of democracy, rights, and governance?
Never give up, believe in yourself and trust your team. I have a wonderful, professional and experienced team full of young and ambitious people, with whom I believe we will continue to achieve our common goals of further solidifying the democratization process in Kyrgyzstan.
*Daria Azarjew is a program officer for Europe and Eurasia at IFES.