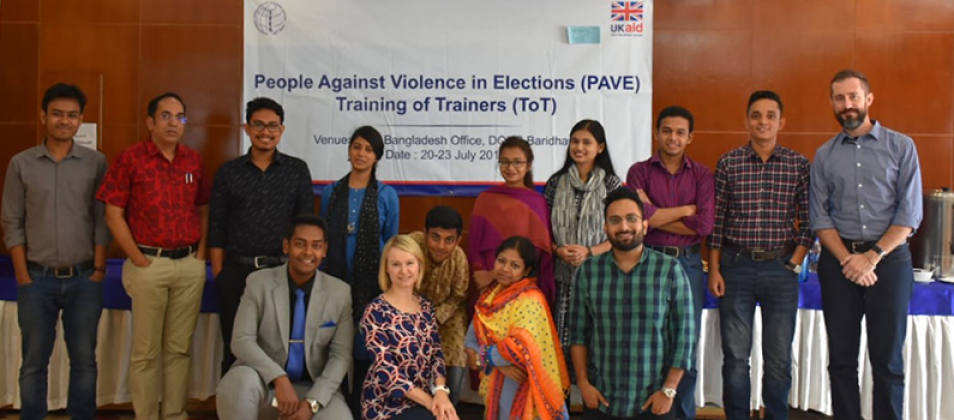 Youth Leadership, Conflict Mitigation and Commuting in Dhaka
by Chris Deal*
"It can take two hours or less, but sometimes… maybe more," was the honest estimation of a 12-kilometer commute from the University of Dhaka to a rented ballroom, which was repurposed as an International Foundation for Electoral Systems (IFES) training facility. Excusing for island nations and sovereign city-states, Bangladesh is the most densely populated country in the world, with Dhaka ranking as one of the largest, most highly populated cities. Rickshaws, motorcycles and bicycles constantly fight against buses, pedestrians and mopeds for asphalt as traffic slowly crawls across the capital.
In 2018, road safety protests brought the metro-Dhaka area of nearly 18 million people to a standstill when students demanded better enforcement of traffic laws. While the protests began on seemingly apolitical subject matter, the situation turned violent when protesters on one side met with police and members of a government-aligned student group known as the Bangladesh Chhatra League. The ensuing violence resulted in the beatings of dozens of students and the hospitalization of several journalists.
From the country's beginnings in a 1971 liberation war totaling three million deaths in a year's time, to a decadeslong acrimonious struggle between two competing political parties – Awami League and the Bangladesh Nationalist Party – politics and conflict have been inextricably linked with violence. This level of acceptance of violence as a means of resolving conflict in Bangladesh has unfortunately crept into student politics and university life.
"My university major works to help people that have been affected by strokes and other problems which impair their ability to speak. While studying this, I have learned about how speaking is largely tied to power. I am here to make sure that those who cannot speak can be included." – Ratre, a young woman studying communications disorders
Former Dhaka University student and researcher at the Microgovernance Research Initiative, Mehedi Hasan Babu, explained that first-year university students are exploited by a system of patronage that preys upon young students' basic needs and aspirations: shelter, a promise of future livelihood and prestige. A lack of housing at Dhaka University creates a situation where older students, aligned with student government, control the only means for students from out of town to live near school. Upon being granted the ability to sleep in a "ganaroom" – a group room for 10-20 students – campus political leaders act as mafia dons, trading lodging for loyalty and forcing younger students into the role of violent henchmen. "Sometimes first-year students are sent to the campus park to beat outsiders and sometimes students are made to beat their own friends who have broken the rules of their student party," said Babu. These students must then work at the behest of the student wing of the ruling party, currently the Bangladesh Chhatra League, often at the expense of their studies.
Conflict, like traffic, is inevitable in Bangladesh but, like everywhere else in the world, violence need not be the outcome. IFES' "People Against Violence in Elections" (PAVE) program aims to mitigate violence by providing participants with a language and understanding around conflict, violence and peace. PAVE works to promote plurality, advocate for accountability, build resilience and teach conflict mitigation skills. Ultimately, PAVE aims to give participants control over their own destiny by highlighting ways to constructively mitigate and resolve conflict and offering young Bangladeshis peaceful tools as alternatives to violence to resolve conflict.
"Conflict is inevitable. Through the PAVE workshop, I learned that conflict can be regulated in two ways: constructively and destructively. It is a choice to decide to resolve conflict in a constructive manner that avoids violence." – Shadik, a young political science student from the Chittagong Hill Tracts, a region rife with a history of conflict
IFES' PAVE master trainer session was scheduled to begin midmorning on Saturday, July 20, with consideration given to Dhaka University students who would be attending on a weekend and commuting from their campus dormitories. Speaking equally to the students' commitment and the unpredictability of traffic, all arrived a full hour ahead of schedule.
"I am Buddhist, but your major is dictated by test scores, grades and a number of other things. My entrance scores allowed this major and I thought that I would rather earn a degree from Dhaka University than anywhere else. I would like to pursue a master's degree in special education as I think I would be able to use my experience in that field." When asked why he was involved in a workshop that could be seen as political, he smiled and said, "Everything is political, but I think a true democracy must be inclusive. It must represent everyone." – Nayeem, a young man with a disability majoring in Buddhist and Pali studies
Attentive and ambitious, the Dhaka University students included nine young women and men hailing from all ends of Bangladesh and majoring in political science, communications disorders, Islamic studies and Buddhist studies. Some in the class showed conservative tendencies, while others railed on the merits of secularism. Participants represented Islamic, Hindu and Buddhist faiths with an unspoken and quiet confidence. All are members of Dhaka University's chapter of Students Against Violence Everywhere (SAVE), a student-run group partnering with IFES to provide alternative resolutions to violent conflict. All spoke of the importance of tolerance, pluralism and inclusion.
The July cohort of Dhaka University SAVE students are now certified PAVE facilitators who will lead program trainings, promoting conflict mitigation tools and nonviolent resolution techniques to new audiences throughout Bangladesh. The SAVE team at Dhaka University has additionally begun to further augment PAVE programming by offering positive and constructive extracurricular activities to students. SAVE members have started Bangladeshi Youth Initiatives, a student-led volunteer organization engaging in environmental, humanitarian and hunger- and poverty-alleviation activities that simultaneously provides students with leadership opportunities. Additionally, Dhaka University's political science department is partnering with SAVE to sponsor a writing competition, the theme of which this year is "Youth in Promoting Tolerance and Democratic Values." Winning stories were scheduled to be announced on International Youth Day on August 12.
"I grew up in the north of Bangladesh in a village with Muslims, Hindus, Buddhists and Christians and everyone got along. This did not make my family less Muslim nor my neighbors less Hindu, and I think that is what I think of when asked of my definition of 'peace.'" – Sayed, a communications disorders student

At the close of the four-day training session, students readied themselves for the drive back to campus. After a protracted discussion on how long the drive might take, with parties solidifying on either 45 minutes or two hours, discussion veered to future plans. Zakir, a political science major, summed up the day by saying, "Through this workshop, I have learned that I have many opportunities and responsibilities to spread democracy in my peer groups and in society at large. Additionally, I have learned that we have many alternative ways to address conflict in a nonviolent and peaceful way."
The development of the PAVE program was funded with UK aid from the UK government.
*Chris Deal is a program associate for Asia-Pacific at IFES.