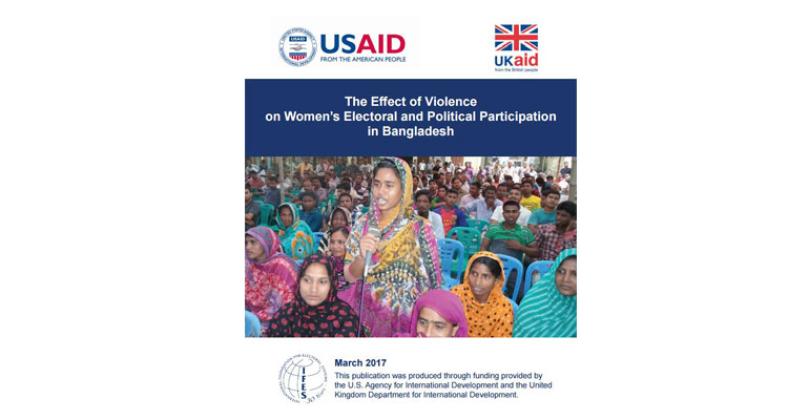 The Effect of Violence on Women's Electoral and Political Participation in Bangladesh
Women in Bangladesh are uniquely impacted by pervasive violence in the country's electoral process, as voters, candidates, political party supporters and activists. To explore the effect of electoral violence on women's meaningful participation, the International Foundation for Electoral Systems (IFES) convened seven focus groups of Bangladeshi women in 2013 and 2015 to discuss electoral violence they have experienced both in the home and in the public sphere.
Under the "Bangladesh Election Support Activities" (BESA) Program, IFES has worked through two key channels to engage interested stakeholders in preventing electoral violence, sharing information on the causes of conflict and promoting peaceful political processes:
The Women Against Violence in Elections (WAVE) Advisory Group, which has worked to identify ways to mitigate electoral and political violence against women as well as ways to engage their networks and utilize their expertise to promote peaceful, violence-free elections and encourage women's participation and leadership.
The Electoral Conflict and Security Working Group, which serves as a platform to discuss successes of and lessons learned from grassroots initiatives that address electoral violence and improve electoral security, and strategies for new interventions in this area.
Additionally, under IFES' global "Bridging the Gaps: A New Framework for Gender and Electoral Violence" program, IFES is working to identify and address the unique issues related to gender-based election violence. Bangladesh was identified as one of several target countries to conduct research that would help 1) inform the development of a robust framework for assessment and documentation of women's experiences with electoral violence, and 2) enhance IFES programming that addresses the impacts of electoral violence on women through sharing the framework and recommendations to improve program design.
IFES conducted a series of focus group discussions (FGDs) with Bangladeshi women in 2013 and 2015 in order to better understand women's unique and often undocumented experiences with electoral violence. IFES drew from its institutional knowledge, both from prior electoral violence research as well as experience with country-based initiatives to monitor, report on and mitigate electoral violence in determining questions to ask during the FGDs. In addition, starting with the 2013 FGDs that were conducted under IFES' global program, the BESA project utilized the subject matter expertise within the WAVE Advisory Group and the Electoral Conflict and Security Group to identify additional FGD participants to support a holistic view of this issue within the Bangladesh context.
The specific objectives of the focus groups were to:
Assess general opinions about electoral violence in Bangladesh;
Identify the specific kinds of electoral violence women experience in their private roles as citizens and in their public role as activists and candidates;
Identify perceived obstacles to women as voters, candidates, and political actors; and
Understand how a violent political culture affects women's electoral and political participation.
The findings seek to contribute to a more holistic and human-centered approach to electoral security, as opposed to an event-, location- or material-centered approach, that covers all phases and activities of the electoral process and adheres to the spirit of international standards and norms governing elections, as experienced by women in the political sphere.