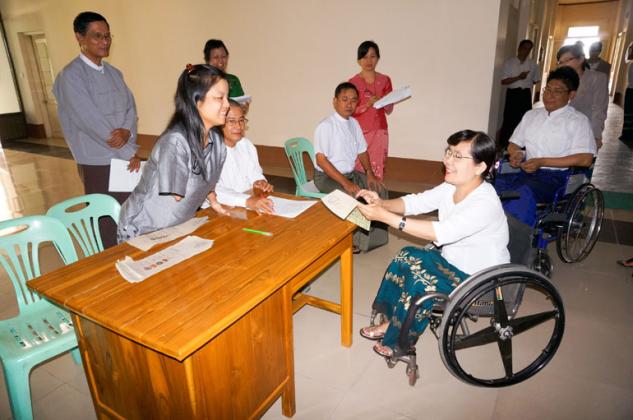 RSVP for "Persons with Disabilities in Myanmar: Securing Political Participation and Electoral Rights" on Sep. 15
Date & Time
B-339 Rayburn House Office Building
$(".pane-node-field-date-and-time .field-name-field-date-and-time span.date-display-single").html("15 Sep 2016 3:30 p.m.");
The International Foundation for Electoral Systems (IFES), in collaboration with the Bipartisan Disabilities Caucus, is pleased to invite you to "Persons with Disabilities in Myanmar: Securing Political Participation and Electoral Rights."
Join us to hear a firsthand account of how NGOs, civil society, and the government of Myanmar (Burma) united to strengthen the political rights of persons with disabilities during the country's historic 2015 elections, as well as to discuss what's next in the movement to achieve equal rights for persons with disabilities in this emerging democracy. This event is open to both Congressional staff and the broader disability rights community.
IFES President and CEO Bill Sweeney will provide opening remarks. The event will be moderated by Virginia Atkinson, IFES Senior Access and Inclusion Specialist. Panelists include:
Nay Lin Soe, Founder and CEO, Myanmar Independent Living Initiative
David Morrissey, MPS, Executive Director, United States International Council on Disabilities
Vasu Mohan, Regional Director, Asia-Pacific, IFES
ASL interpretation will be provided; light refreshments will be served.
Feel free to follow this event's conversation on Twitter @IFES1987 and @IFESDisability.