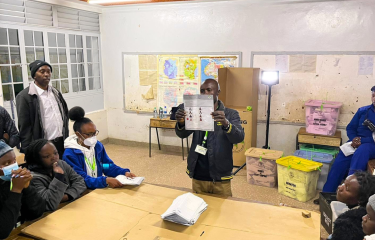 In Kenya, 64.7 percent of around 22 million voters cast ballots in August 2022 to elect a new president, governors, senators, and members of the National Assembly and county assemblies.
Supporting Kenya's judicial bodies
Judicial bodies now bear a greater responsibility in determining the integrity of elections, requiring judges to be prepared for challenging cases that come with political pressure and potential violence.
Following the violence that erupted after Kenya annulled the 2017 presidential election, IFES provided technical assistance to the judiciary through the Judicial Committee on Elections (JCE) and the Kenya Judiciary Academy ahead of the 2022 general election.
The Supreme Court of Kenya reviewed nine petitions contesting the election in a timely manner and ultimately upheld William Ruto as the duly-elected president on September 5.
"Because we have trained all the judges well, we are sure that we will be able to deliver and finalize all of [the cases] judicially within the stipulated timeline," Justice Musinga, the JCE Vice President and President of the Court of Appeals, said before the election.
Using Artificial Intelligence to detect hate speech and disinformation
Online hate speech and disinformation plagues candidates in Kenya's elections. Not only does it misinform voters, but it provokes violence ahead of and following the elections, as Kenya saw in 2017.
 
To combat this, IFES worked with the Independent Electoral and Boundaries Commission (IEBC) to implement a custom Artificial Intelligence (AI) tool that provided a platform to detect, record, and analyze hate speech on Twitter. Throughout the electoral cycle, the tool enabled the commission to better manage factual inconsistencies, identify potential safety risks, and train its staff on media monitoring at the National Tallying Center.
"This is the first instance we are aware of where an AI-driven tool has been custom-developed to detect online hate speech for a specific election," IFES CEO and President Tony Banbury said.
The IEBC said they found the tool especially useful to complement its existing, robust social media and traditional media monitoring capacities. They plan to deepen connections between this tool to its future risk management and research functions.