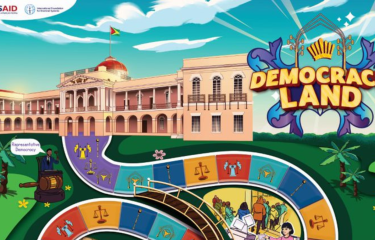 Learning by playing in Guyana
Guyanese teacher Keanu educates his students about civics differently than most—with a colorful set of games, featuring graphic characters representing Guyana's diverse population.
Keanu learned about these card and board games through a training for Indigenous youth with IFES Guyana, who developed the games through the support of USAID to encourage young people's participation in civic and political life.
"As a teacher, [the games] are really useful in the classroom," Keanu said.
The toolkit aims to develop young people's knowledge of democratic processes and strengthen their leadership and advocacy skills, encouraging them to engage with their communities.
Rondell, a staff member at the Guyana National Youth Council who has used the toolkit with groups of youth across Guyana, said it's common for young people not to seek out resources about voting and civic participation outside of school.
And for young people with disabilities, finding information on how to participate in the political process is even more difficult.
"People with disabilities are not exposed to much information because of a lack of access, so this program was able to both target them while also including them in the decision-making," Rondell said.
Youth trainers with disabilities run trainings with the toolkit alongside youth without disabilities for mainstream audiences, serving as role models for participants.
Now, both Keanu and Rondell are training other young people across Guyana to teach others how to play the games.
"In a modern, technological age, it is about finding innovative, creative ways to bring out lessons so that the people not our age can follow and understand what is happening," Rondell said.
Civic education around the globe
Games are just one example of a local IFES innovation in civic education spreading globally. IFES first developed the Strengthening Engagement through Education for Democracy (SEED) methodology in Georgia in 2012. The course introduces students to fundamental concepts of democratic citizenship, systems of government, civic participation, and human rights, while deepening soft and hard skills through hands-on, real-world learning experiences.
IFES has worked with over 100 universities and over 200 education specialists in Georgia, Ukraine, Armenia, Serbia, Kyrgyzstan, and Bangladesh to develop and offer fully accredited university-level curricula, which in many universities has become a requirement for graduation.
Awakening democracy in Tunisia
About 5,000 miles across the Atlantic from Guyana, in Tunisia, board games and other initiatives about active civic participation and democratic values are now a part of the academic curriculum for primary, middle school, and high school.
Lina, a student who participates in IFES's civic education programming, ran as a political candidate in her school's election simulation as part of the curriculum. Her teacher said it is important for Lina and her peers to understand how to respect candidates and decide independently on who you want to represent you at an early age.
 
"All of what you learn at the age of 12 is very important and it takes root in your mind that this is the behavior in a democracy," the teacher said.
The curriculum outlined by the Democracy Awakening Toolkit, produced by IFES and the Ministry of Education, is expected to reach a minimum of 500,000 students between ages 10 and 18 annually in the future.
Technological innovation driving information accessibility
Technology and innovation drive the development of civic education programs in Tunisia. For Ahmed, who is hard of hearing, he said that it is hard for people with limited hearing to understand elections and receive information about voting. But through the IFES-developed New Tech Inclusive Democracy Exhibit, he explored different voting and electoral scenarios through augmented and virtual reality experiences.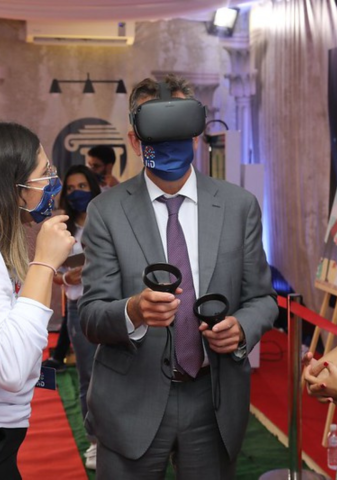 "The VR experience was simply magnificent," Aymen, a Deaf activist, said. "The fact that the sign language interpretation was assisting me all the way through the voting simulation made me understand the process from A to Z."
The technology-based games and experiences also engage young people, a generation that gets its information from smartphones. IFES developed an app called Run4Democracy (RFD) to encourage young people to register to vote. While the player runs to collect Tunisian flags and voter ID cards, they need to avoid obstacles along the way. While having fun, the gamer receives voting information that they may not seek out elsewhere.
"Every person, whether as a student studying civic education, or as a voter and citizen who demands his rights, for me, one of the most important duties are elections because an election is a collective responsibility," participant Lina said about the importance of civic education in Tunisia.