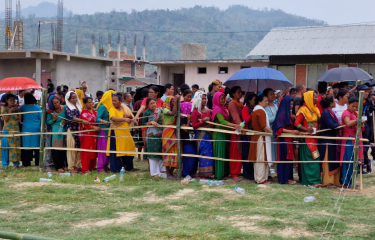 In Nepal, over 11 million voters cast ballots in November 2022 to elect new members of the federal House of Representatives and the Provincial Assemblies. This election, along with the May 2022 local elections, followed years of political uncertainty, as well as the COVID-19 pandemic.
Making Nepal's elections more inclusive and accessible
The Election Commission of Nepal (ECN) piloted 100 accessible polling locations across all seven provinces, with the support of IFES aided by Australia's Department of Foreign Affairs and Trade (DFAT) and USAID. These locations included a total of 392 officers trained on accessible polling, fitted ramps, and braille voter information.
Participants of IFES's youth-focused media literacy workshops—conducted with the support of Meta—created short films that echoed the message of ensuring the accessibility of polling locations and contributed to the My Vote, My Future voter education campaign. In one film, a man in a wheelchair uses a ramp to cast his ballot independently in 2022, while in 2018, a woman needed to assist her father to cast his vote.
As another component of My Vote, My Future, IFES mobilized Nepali influencers and celebrities to produce authentic videos that focused on countering disinformation, fact-checking, and active civic engagement
 
Social media campaign positively serves democracy in Nepal
Wangden Sherpa made a name for himself on social media as a musician and influencer who created viral videos for a young audience. Politics rarely crossed his mind, never casting a ballot at the polls.
 
But when presented with a way to collaborate with other Nepali influencers to create voter education content on social media, Sherpa saw an opportunity for his audience to make an impact.
"I knew exactly how to reach that group of people who knew the importance of voting and how it could shape our future but didn't have that right push," Sherpa said.
The videos, created as part of the Nepal Election Hype House program using #MyVoteMyFutureNepal, #NepalVotes2022, and #ProudNepaliVoter received over 59 million views.
Mamta Siwakoti, an influencer and lawyer who makes content about legal issues in Nepal, said that while many of her viewers are more involved in politics, engaging them in innovative ways is essential.
 
"Coming together with others to make fun videos [on the elections] is something I would not have done on my own," Siwakoti said.
Over 3 million young people were eligible to vote for the first time in the 2022 elections. Sherpa said now, these videos set a new standard of making voting information accessible through innovative methods for young voters.
 
#MyVoteMyFutureNepal
Text
Check out these influencers keeping youth in Nepal informed.