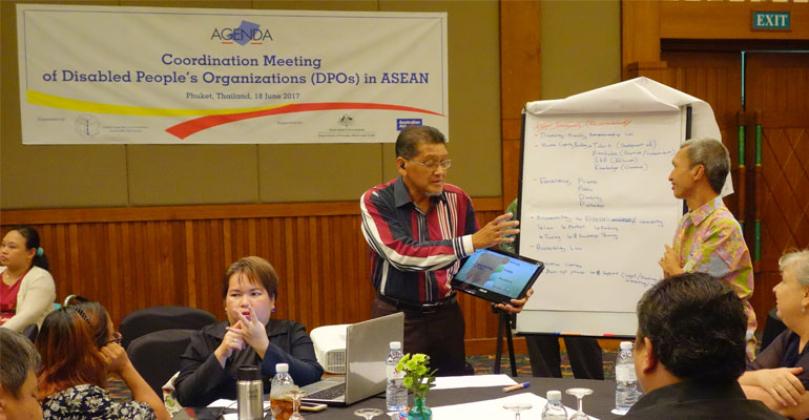 AGENDA Organizes DPO Coordination Meeting Ahead of AICHR Regional Dialogue
The General Election Network for Disability Access (AGENDA), a creative partnership of disabled people's organizations (DPOs) and election-focused civil society organizations in Southeast Asia, organized a meeting of disability rights advocates on June 18 in Phuket, Thailand, to discuss recommendations for the access to justice, disaster risk management, and entrepreneurship for people with disabilities in the Association of Southeast Asian Nations (ASEAN) Community. Twenty DPO participants from 10 ASEAN countries took part in the coordination meeting. DPO participants shared the draft position papers that resulted from the coordination meeting with participants of the third ASEAN Intergovernmental Commission on Human Rights (AICHR) Regional Dialogue on Mainstreaming Rights of Persons with Disabilities on June 21, 2017.
During the AICHR Regional Dialogue special breakout sessions allowed all participants, including the representatives of ASEAN sectoral bodies, regional human rights commissions, national human rights institutions, DPO participants, and others to discuss and refine the draft position papers together, drawing on new insights gained through two days of interactive expert panel discussion as well as the diverse experiences of advocates with different types of disabilities from the around the region.
Participants of the DPO Coordination Meeting in Phuket, Thailand on June 18, 2017.
The collaborative drafts emerging from the breakout sessions were presented by the AICHR representatives during the remaining Regional Dialogue plenary session where all participants had the opportunity to critique and recommend improvements to the thematic position papers. The groundbreaking collaboration of regional officials, ASEAN member state officials, and stakeholder representatives reflected the broader themes discussed by the group, including the increased effectiveness of stakeholder-informed policy and the importance of mainstreaming the rights of persons with disabilities for achieving the ASEAN community-building Vision 2025 of "Moving Forward Together," an aspiration and sentiment strongly echoed in the disability community's own imploration, "Nothing About Us Without Us."
AGENDA was founded by the International Foundation for Electoral Systems in 2011 and is supported by the Australian Department of Foreign Affairs and Trade and previously by the United States Agency for International Development.