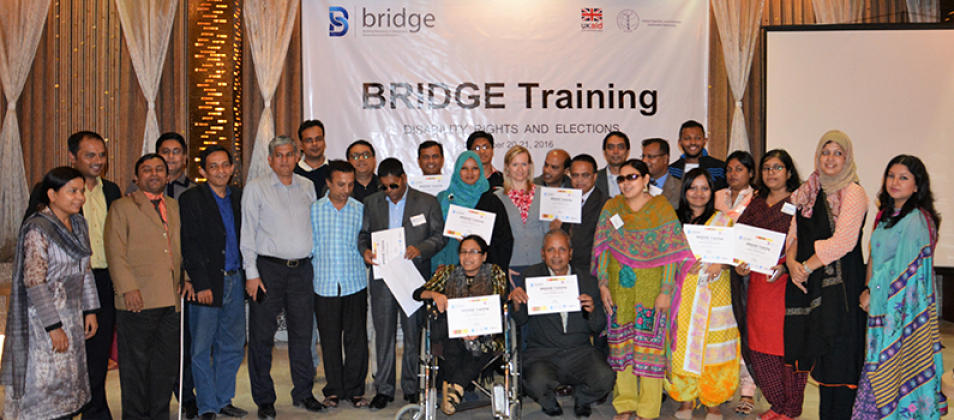 Bangladeshi Advocate Promotes Inclusion of Women with Disabilities
by Ruby Holmes*
Persons with disabilities in Bangladesh experience widespread social stigma, and few government officials and service providers have been sensitized to disability rights. Minimal support is provided to empower persons with disabilities to participate fully in public life, which limits the number of persons with disabilities who have access to high-level legislative and budgetary decision-making processes. Despite this, disability rights advocates are making positive impacts on the political participation of persons with disabilities throughout Bangladesh. The International Foundation for Electoral Systems (IFES) is working to support advocates' efforts and the full inclusion of persons with disabilities in public life. One such advocate is Nazma Ara Begum Popy, general secretary of the Bangladesh Visually Impaired People's Society (BVIPS), a disabled people's organization (DPO) working on disability issues in Bangladesh.
In December 2016, Popy attended IFES' Building Resources in Democracy, Governance and Elections (BRIDGE) training on Disability Rights and Elections. The training included interactive lessons on access of persons with disabilities throughout the electoral cycle as voters, candidates, election officials and observers. Activities highlighted disability inclusion as a key component of credible and inclusive elections, emphasizing an important aspect of participating in public life for persons with disabilities. Empowered by this experience, Popy also participated in IFES' advocacy workshop for women's empowerment and disability advocates. During the workshop, she worked toward her long-term goal of introducing new government legislation and reforming existing laws to improve implementation of disability-friendly policies. She created a long-term strategy advocating for the creation of two reserved seats in the Bangladesh parliament for persons with disabilities by 2022. During both trainings, Popy engaged with electoral stakeholders and women's rights advocates, encouraging them to consider the relevance of disability rights to their daily work.
Popy is also a member of IFES' Women's Active Voice in Elections (WAVE), working to identify ways to mitigate electoral and political violence against women while engaging networks to utilize their expertise to promote peaceful, non-violent elections and encouraging women's participation and leadership. After joining in 2013, she realized that members' efforts to promote women's political participation and peaceful elections failed to recognize the challenges faced by women with disabilities. She began collecting reports of violence experienced by women with disabilities, sharing them with her fellow WAVE members. As members learned about barriers to women with disabilities, Popy encouraged other WAVE members to include persons with disabilities in their workshops, meetings and events. Members were receptive to her efforts, successfully including disability issues in their advocacy efforts and inviting women with disabilities to participate in their events.
Building on these efforts, Popy and other DPOs organized two separate events in February and March 2016 on the political participation and empowerment of women and persons with disabilities. The February dialogue was hosted by the Daily Star, Bangladesh's national newspaper, and featured Honorable Speaker of Parliament Dr. Shirin Sharmin Chaoudhury, the first woman to serve in the post, and other members of Parliament. Popy also increased awareness about disability rights by attending public events on women in politics, including the 2016 roundtable discussion on "Advancing Women's Political Leadership in Bangladesh."
Popy's enthusiastic encouragement of other persons with disabilities to join her in actively participating in political life supports the development of locally-led initiatives for inclusive political and electoral processes in Bangladesh. Her personal advocacy work as a WAVE member and BVIPS leader is influencing her network of fellow advocates. Through attending IFES' BRIDGE training and advocacy workshop, she is closer to achieving her long-term goal of ensuring persons with disabilities are included in events and advocacy efforts. Gradually, her persistence in advocating for the rights of persons with disabilities is encouraging other human rights activists, civil society organizations and government officials to consider disability rights throughout their efforts.
*Ruby Holmes is an intern with IFES' inclusion division.