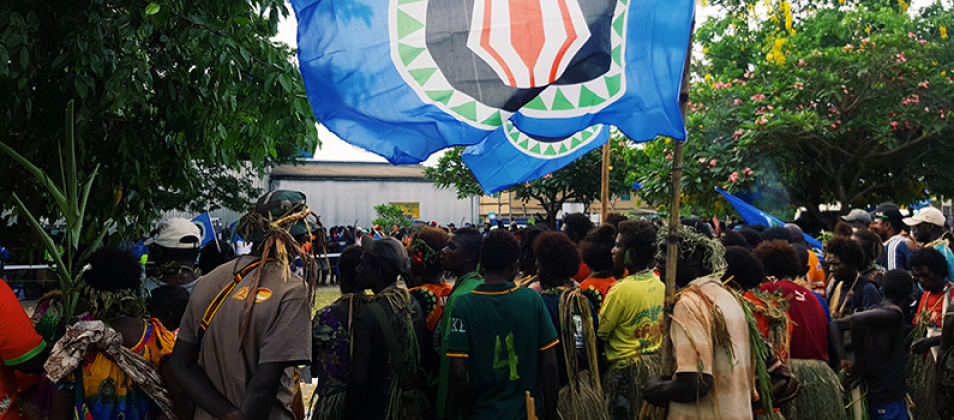 Bougainville Referendum Results Announced
With 87.4 percent* turnout, voting in the Bougainville referendum – conducted from November 23 through December 7 – concluded with the announcement of results on December 11. A majority of voters selected independence, at 97.7 percent of the vote, with less than 3 percent of voters choosing greater autonomy. While the referendum is not outcome-determining, the results will contribute to bilateral negotiations between the Autonomous Bougainville Government (ABG) and Papua New Guinea (PNG) Government as outlined in the 2001 Bougainville Peace Agreement.
Polling was peaceful and festive with musical performances and celebrations welcoming voters and the community to the polls. The Bougainville Referendum Commission (BRC) acknowledged the significance of the election and the decisive steps ahead: "We thank the two governments of Papua New Guinea and the Autonomous Region of Bougainville, and the people of the Bougainville for their outstanding participation in this historic process – one part of the Bougainville Peace Agreement. We recognize the Referendum has been a national event, and so also acknowledge and thank the people of Papua New Guinea."
In a statement issued following the announcement of referendum results, PNG Prime Minister James Marape recognized, "The conduct of the vote was excellent. I give full credit to the work of the Bougainville Referendum Commission, the Autonomous Bougainville Government under the leadership of President Momis and the people of Bougainville who ensured that the referendum period was safe and that all Bougainvilleans could cast their vote."
ABG President John Momis stated, "We are all full of expectations and hope. If we work together, the outcome will be good and official… and most importantly produce lasting peace." Prime Minister Marape and President Momis plan to meet on December 13 in Arawa to sign a joint statement.
A photo gallery of the referendum can be found here or by clicking on the image below.
Voters mark their ballots at a polling place in Haku, Bougainville.
*Updated on December 17