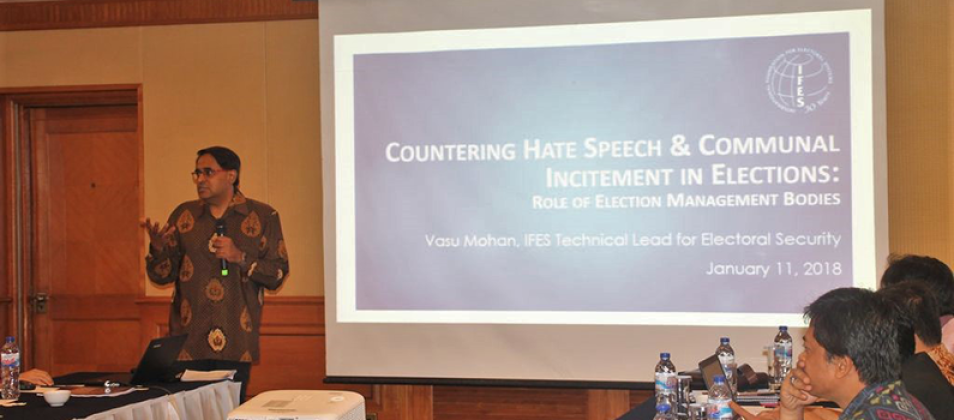 Countering Communal Incitement and Hate Speech in Indonesia
In recent years, election campaigns in Indonesia have increasingly become flashpoints for inter-communal and sectarian incitement to violence. In many cases, incitement to communal violence uses hate speech and hoax (or fake) media stories based on actual events to inflame tensions for partisan advantage in elections. Exacerbating this problem is that Indonesians are among the most active users of social media where hate speech and hoaxes are commonly spread. This, along with the multitude of religious, racial, and ethnic groups in the country, makes Indonesia particularly susceptible to identity-based hate speech and its ill-effects.
The 2017 Jakarta gubernatorial election provides one example of this vulnerability. As then-Governor Basuki Tjahaja Purnama (Ahok), who is Christian and of Chinese descent, campaigned for re-election, he was accused by hardline Islamists of insulting the Koran after a doctored video was shared on social media. This incident provoked massive protests that resulted in one death, several injuries and the burning of police vehicles. In the end, the anti-Ahok movement caused him to lose the election and be sentenced to two years in prison for blasphemy against Islam.
[caption align="right"]
[/caption]
As Indonesia enters now a contentious election period consisting of regional elections in June 2018 and national elections in April 2019, it is important that election stakeholders are brought together to discuss and coordinate efforts to tackle these issues. Making inroads against hate speech will be contingent upon stakeholders forming strategic partnerships and alliances and working collaboratively. With this in mind, on January 11, the International Foundation for Electoral Systems (IFES) held a roundtable on countering hate speech and community incitement in elections in Jakarta. Using IFES' recently published white paper entitled "Countering Hate Speech in Elections: Strategies for Electoral Management Bodies" as its basis, the roundtable brought together 28 actors who were in interested in learning about strategies to minimize the effects of hate speech and communal incitement. Among the participants were representatives from the Election Oversight Body (Bawaslu), General Elections Commission (KPU), Ministry of Home Affairs, Executive Office of the President and national civil society groups.
Led by IFES Technical Lead for Elections, Conflict and Security Vasu Mohan, Bawaslu Commissioner Mochammad Afifudin and KPU Commissioner Wahyu Setiawan, the roundtable began with a presentation that covered relevant international standards and definitions as well as highlighted comparative examples of policy and regulatory frameworks for addressing hate speech. Following this segment of the roundtable, participants examined different strategies that election management bodies (EMBs) and other stakeholders can employ to prevent or respond to issues of hate speech and community incitement during the election period. For example, IFES encouraged all relevant actors to model good behavior in their own practices; speak out clearly against discrimination and hatred; and monitor and collect data on hate speech and resultant violence. IFES also emphasized that the risk of incitement and violence can be mitigated through joint security planning, inclusive voter education messaging and pluralistic and open dialogue. To conclude the roundtable, IFES presented a case study on the recent elections in Kenya and how its EMB and stakeholders worked together to deter and combat hate speech.
Since the roundtable, the Government of Indonesia has demonstrated its awareness of the dangers posed by hate speech and incitement by taking steps to combat the growing threat. On January 31, for example, Bawaslu, the KPU and the Ministry of Communications and Information Technology signed a memorandum of action, agreeing to work together to curb the spread of fake news and hate speech in preparation for the regional elections in June. This will include coordinating efforts to monitor hoax news and inter-communal incitement in official social media accounts registered by political parties and candidates.
[caption]
[/caption]