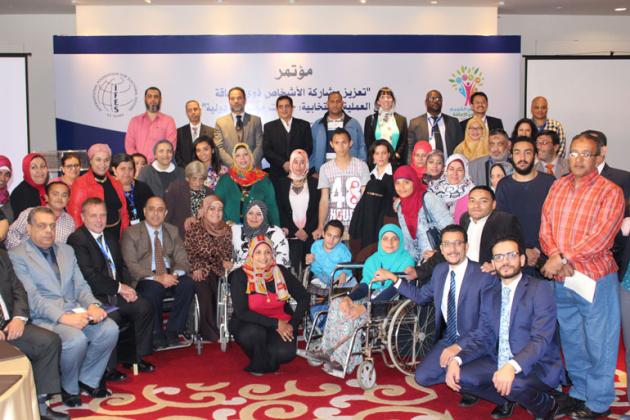 Egypt's National Council for Disability Affairs and IFES Host International Conference on Electoral Accessibility
The International Foundation for Electoral Systems (IFES) and Egypt's National Council for Disability Affairs hosted a conference in Cairo on April 12 and 13, 2016 on electoral access for persons with disabilities, with over 180 participants in attendance.
Conference sessions covered several topics, including how national and international laws protect the rights of persons with disabilities to participate in elections, ways that governmental and non-governmental electoral stakeholders can work together to support inclusive elections, and tools and resources for inclusive electoral management. Electoral management body (EMB) representatives and other officials from Indonesia, the Philippines, Guatemala, Morocco, Zambia and Egypt delivered remarks and showcased international experiences during the conference. Senior level Egyptian officials including the Adviser to the Prime Minister for Electoral Affairs attended along with representatives from several organizations and government agencies, including the League of Arab States and the Moroccan National Council for Human Rights, as well as representatives from Egypt's High Elections Committee, Presidential Elections Committee, State Information Service, and the Ministries of Interior, Foreign Affairs, and Social Solidarity.  
The conference included presentations of case studies from these countries on how EMBs have made elections accessible for persons with disabilities, as well as resources that EMBs and other groups can use to make elections accessible. Participants also broke into small groups to discuss the different ways that EMBs, media, and NGOs in Egypt can promote the rights of persons with disabilities in the voting process, and had the opportunity to participate in a simulation to illustrate how accessibility to polling stations could be improved.
For more information on inclusive elections and IFES' work in this area, please visit www.ElectionAccess.org, a global clearinghouse of resources related to political participation and disability rights.