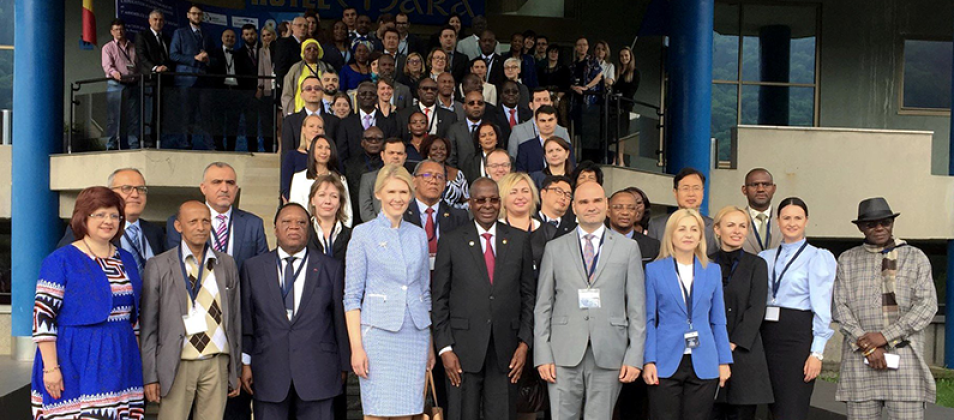 Francophone Election Administrators Establish Women's Forum
by Caroline Roddey*
On June 7 in Bucharest, Romania, the general assembly of the Réseau des competences électorales francophones (Network of Francophone electoral bodies, RECEF) voted unanimously to create a Women's Forum to bring together women in senior leadership positions in national election administration from across Francophone states. Benin, Burkina Faso, Madagascar, Niger and Rwanda were designated members of the coordinating group that will plan forum events, the first of which will be held this fall in Kigali, Rwanda.
The creation of the forum is a major step toward advancing RECEF's commitment to women's political equality in its member states. Worldwide, election management bodies (EMBs) are responsible for ensuring inclusive and equal participation in democratic processes yet themselves fall far short when it comes to women's participation in election administration. Currently less than a quarter of the world's EMBs are led by women, and only six of RECEF's 32 member states have women at the helm of their EMBs. The Women's Forum will help address this gap by providing professional growth and networking opportunities to senior women leaders from RECEF countries.
Currently less than a quarter of the world's EMBs are led by women, and only six of RECEF's 32 member states have women at the helm of their EMBs.
RECEF has been progressively deepening its work on gender equality since its formation in 2011. In March 2018, the theme of RECEF's sixth international exchange seminar was "An Inclusive Electoral Process Promoting the Participation of Women and Minorities." The seminar was organized in partnership with the Independent National Electoral Commission of Madagascar and supported by the Organization of La Francophonie (OIF). The International Foundation for Electoral Systems (IFES) joined over 80 participants representing organizations such as the Inter-Parliamentary Union, United Nations Development Program, European Election Support Center and International Institute for Democracy and Electoral Assistance. Representatives from national organizations such as the Assembly of People's Representatives of Tunisia, Legislative Assembly of the Union of the Comoros and National Council of Women of Madagascar also participated.
At the end of the seminar, the participants adopted the RECEF Declaration in Antananarivo, which proposed recommendations to EMBs and civil society organizations. Key recommendations included promoting the adoption and implementation of a binding legislative framework to increase the involvement of women in electoral politics and processes, integrating a gender perspective into the planning and implementation of EMB actions and strategies and promoting the hiring of EMB staff who reflect the diversity of society.
Additionally, IFES was honored to participate in an international visitors' program in fall 2018 in Quebec City, Canada, represented by Gender Adviser Dr. Gabrielle Bardall. IFES was able to engage with the leaders of 15 EMBs from the Francophone region, as well as Canadian provincial and federal electoral chiefs and representatives of the OIF, the Quebec National Assembly and Elections Quebec. Alongside RECEF secretariat staff and women executives from RECEF's members states, Dr. Bardall presented proposals for strengthening women's leadership in election administration.
*Caroline Roddey is a gender program intern at IFES.