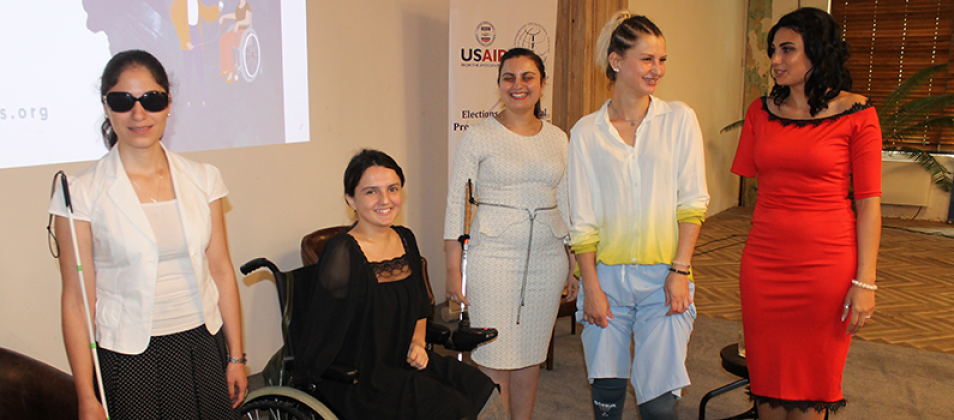 Highlighting Successes of Women with Disabilities in Georgia
Women with disabilities encounter discrimination and intersectional barriers to inclusion in society, which can result in reduced participation in political and public life. To support and empower this community in Georgia, the International Foundation for Electoral System (IFES) launched the A-Spire Speakers Series in July 2019 to provide a platform for women with disabilities to share their unique stories and successes with the disability rights community, local and international stakeholders and government representatives. This seminar series, which countered stereotypes and negative narratives about women with disabilities in Georgia, builds on IFES' more than 10 years supporting the political participation and inclusion of traditionally underrepresented groups, including women, youth and persons with disabilities.
The inaugural A-Spire event brought together four storytellers from Tbilisi, Kutaisi and Batumi – including one speaker representing a religious minority – and was moderated by a woman with a visual disability. Speakers described their personal experiences, barriers and goals, including discrimination they have faced and how they have responded to it. By emphasizing their abilities to use innovative solutions to solve problems, they challenged traditional beliefs about the role of women with disabilities in Georgian society. Their stories demonstrated that they have proven to themselves and society that believing in oneself is key to reducing prejudice.
Stella Andriuk shared her goal to achieve her childhood dream of becoming a professional archer. Andriuk, who uses a wheelchair and has had over 30 surgeries, continued to pursue her dream despite encountering attitudinal and physical barriers. Mariam Mikiashvili brought educational methods for students with visual disabilities back to her work as deputy director of the only public school for children with visual disabilities in Georgia; Mikiashvili had first encountered these unique learning approaches while studying in the United States under the Future Leaders Program.
"There are no limitations, the only thing one needs is to set the goal and think how to achieve it." – Mariam Mikiashvili
To further develop the A-Spire Speakers Series, IFES informally engaged TEDx Tbilisi to meet the standard of TED talks held around the world. Use of the TEDx methods and standards built the speakers' public speaking and leadership skills, increasing their confidence. TEDx Tbilisi has expressed interest in bringing A-Spire Speakers to future events, which supports this initiative's sustainability.
In Georgia, persons with disabilities are extremely underrepresented; only one parliamentarian represents the disability community. However, active and informed political participation of all persons is crucial to the future of Georgia. The A-Spire Speaker Series is a platform for the empowerment of women with disabilities to play an active role in social and political life and to positively shape democratic outcomes.
Video excerpts and transcripts can be found on IFES' ElectionAccess.org.
IFES' project in Georgia is made possible with the support of the United States Agency for International Development through the Consortium for Elections and Political Process Strengthening (CEPPS). Established in 1995, CEPPS pools the expertise of three premier international organizations dedicated to democratic development: IFES, the International Republican Institute and the National Democratic Institute. CEPPS has a 20-year track record of collaboration and leadership in democracy, human rights and governance support, learning from experience, and adopting new approaches and tools based on the ever-evolving technological landscape.