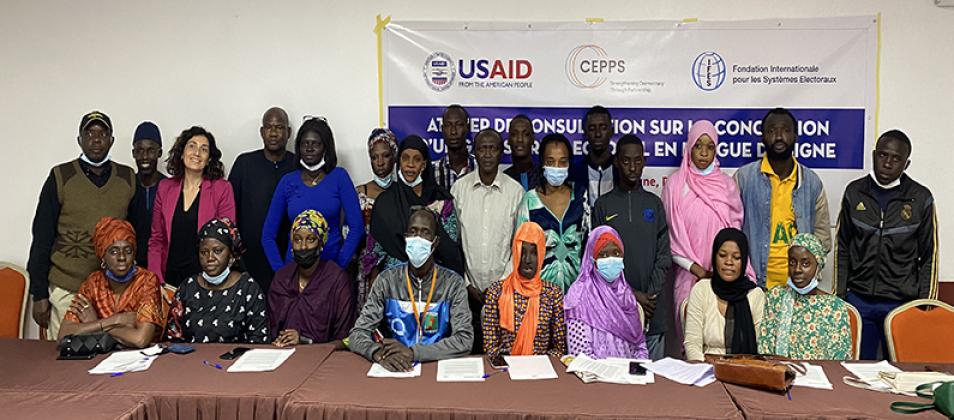 IFES Collaborates with Deaf Persons' Associations to Develop First Sign Language Electoral Lexicon in Senegal
"This is the first time that an election awareness campaign has been sensitive to the information needs of Deaf people," said Séga Gueye, member of a Deaf persons' association in Senegal. "I'm very happy that someone thought of us for a change."
As part of the USAID Elections Support Program in Senegal—implemented by the Consortium for Elections and Political Process Strengthening (CEPPS)—the International Foundation for Electoral Systems (IFES) is working with election management bodies to enhance their communications practices to be more inclusive of traditionally underrepresented groups.
In April 2022, IFES convened representatives of the Deaf community in Senegal to develop a sign language lexicon of electoral terms. Closing this gap in accessible public information involved building a vocabulary with which sign language users could learn about key electoral processes and engage in discussions and debates around electoral issues.
The process of developing the sign language electoral lexicon began when IFES hosted an initial consultation workshop with 21 participants. These participants represented seven civil society organizations (CSOs) working to protect and promote the rights of Deaf and hard-of-hearing people. Senegal's General Directorate for Elections (DGE) was also represented.
During the workshop, participants agreed on a list of 105 key electoral terms to include in the lexicon. These ranged from legal principles to terms related to election administration, candidature, and voting. The workshop then designed—by consensus—the signs to be used for those concepts.
Feedback from workshop participants was overwhelmingly positive: many shared that they had never before had the opportunity to participate in an event like this and expressed their satisfaction with its inclusive approach.
With the terms and signs agreed upon, IFES then produced a reference video featuring sign language users from the workshop demonstrating their use. 
Due to the relatively recent development of specialized alphabetization centers in Senegal, the Deaf population using sign language in Senegal is young. To appeal to this younger audience, IFES also developed and shared on social media a backstage "making-of" video to generate buzz for the project.
The videos began circulating on social media ahead of the election and generated attention across the region. Electoral authorities and CSOs in West and Central Africa have reached out to IFES to ask about collaborating to develop similar tools in their countries.
The lexicon's impact in Senegal is already apparent. The president of one participating association described it as an important step forward for the participation of the Deaf community in political and civic life:
"This is the very first tool designed for us to have a quality participation in the electoral process," said Amadou Mbaye, president of the Deaf persons' association in Yeumbeul. "This tool will allow us to have vocabulary and, in the future, to be able to discuss with our peers and sensitize them on the issues of participation of deaf people in elections."
Electoral authorities also lauded this achievement and are integrating it into other areas of civic life. For the first time, the DGE has decided to include sign language interpretation in Senegal's televised voter education messages. The process of developing a sign language lexicon was a vitally important opportunity to build linkages between the DGE and representatives of the Deaf community. In addition, IFES created a handbook to accompany the lexicon video, which can be used as a resource for the Deaf and hard-of-hearing community when engaging in voter education and the political process.
This upgrade to public outreach has had tremendous consequences—both practically and symbolically—for people who otherwise may feel invisible and ignored in their society. It was an important step and commitment by electoral authorities to include Deaf people in the electoral process in Senegal. IFES is proud to have been able to support this effort.
Glossaire électoral en langue des signes | #monsignemavoix