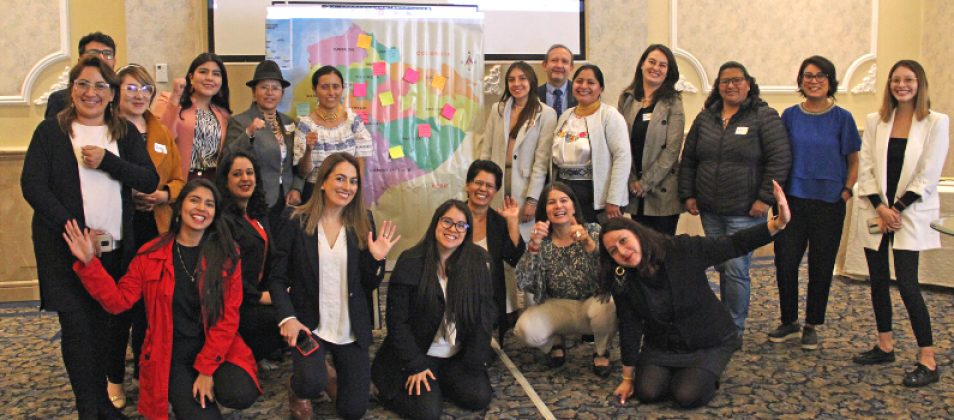 IFES Ecuador and Fundación Esquel Launch Program for Gender Parity in Ecuador
Scroll down to read in Spanish.
On May 19, 2022, the International Foundation for Electoral Systems (IFES) and its local partner Fundación Esquel Ecuador officially launched their project, "Democracy, political organizations and gender: From legal parity to substantive parity." This is part of the "Building Technical Capacity and Public Confidence in Ecuador's Electoral System" program funded by the United States Agency for International Development (USAID).
IFES and Esquel have partnered since early 2022, designing and implementing a program that promotes gender parity in Ecuadorian politics by working directly with political organizations and providing training for aspiring women leaders. The launch of Esquel's training program marks the beginning of the second component of the program, which consists of a series of training and capacity-building sessions for women members of political organizations in Ecuador. The launch event took place in Quito and gathered 29 women who are either aspiring candidates for the upcoming elections or who are leading initiatives within political organizations.
IFES' Country Director in Ecuador, Mauricio Dorfler, delivered the opening remarks and stressed IFES' commitment to the promotion of inclusive democracies, and especially the importance of gender parity within political organizations. He was joined by Cecilia Lincango, Esquel's Gender and Diversity Coordinator, to welcome the participants to the program.
The launch event included a series of activities to establish rapport among participants and highlight the importance of women's political participation at all levels of government. Initial activities were complemented by a dialogue on "Women in Politics" and by a deeper group reflection session which addressed issues such as participants' goals in politics and the impact women can have on political systems and practices. At the end of the activity, the group's observations, aspirations and goals were placed on a map of Ecuador, symbolizing the importance of participants' political participation to the entire country.
The launch event concluded with information on next steps in Esquel's training program, forthcoming discussion topics and the use of Esquel's online training platform. Participants also expressed their commitment to following through with the program, as well as their intention to stay involved in subsequent components of IFES' and Esquel's project. According to the testimonial of one participant, "multi-party processes are very important because that is how we discover common ground to reach agreements." This statement highlights the project's aim to address gender parity as a transversal objective that concerns everyone, no matter differences in political ideologies. The empowerment and visibility focus of the project was particularly appreciated by participants, one of whom affirmed that they would bring back lessons learned to their organizations and "be a sounding board for other women who participate in politics."
El 19 de mayo de 2022, la Fundación Internacional para Sistemas Electorales (IFES) y su socio local Fundación Esquel Ecuador lanzaron oficialmente su proyecto, "Democracia, organizaciones políticas y género: De la paridad legal a la paridad sustantiva." Esta iniciativa es parte del programa "Fortaleciendo la Capacidad Técnica y la Confianza Pública en el Sistema Electoral del Ecuador" financiado por la Agencia de los Estados Unidos para el Desarrollo Internacional (USAID).
IFES y Esquel iniciaron su colaboración a inicios de 2022, diseñando e implementando un proyecto que promueve la paridad de género en la política ecuatoriana mediante el trabajo directo con organizaciones políticas y brindando capacitaciones para mujeres que aspiren a ejercer liderazgos durante las próximas elecciones de 2023. El lanzamiento del proceso formativo de Esquel e IFES marca el inicio del segundo componente del proyecto, que consiste en una serie de sesiones de capacitación y desarrollo de habilidades para mujeres miembros de organizaciones políticas del Ecuador. El evento se llevó a cabo en Quito y reunió a 29 mujeres que son aspirantes a candidatas para las próximas elecciones o que lideran iniciativas dentro de sus organizaciones políticas.
El director país de IFES en Ecuador, Mauricio Dorfler, en sus palabras de apertura, destacó el compromiso de IFES con la promoción de democracias inclusivas, y enfatizó la importancia de la paridad de género dentro de las organizaciones políticas. Lo acompañó Cecilia Lincango, Coordinadora de Género y Diversidad de Esquel, que dio la bienvenida a las participantes del programa.
El evento incluyó una serie de actividades para establecer una relación entre las participantes y resaltar la importancia de la participación política de las mujeres en todos los niveles de gobierno. Las actividades iniciales se complementaron con un diálogo sobre "Mujeres en la política" y de una reflexión grupal más profunda sobre temas como los objetivos de los participantes en la política y el impacto que las mujeres pueden tener en los sistemas y prácticas políticas. Al finalizar la dinámica, las observaciones, aspiraciones y metas del grupo se colocaron en un mapa del Ecuador, simbolizando la importancia de la participación política de las asistentes para todo el país.
El lanzamiento concluyó con información sobre las próximas etapas en las capacitaciones que impartirá Esquel, los siguientes temas de discusión y el uso de la plataforma de capacitación en línea de Esquel. Las participantes también expresaron su compromiso de seguir adelante con el programa, así como su intención de permanecer involucradas en los siguientes módulos del proyecto de IFES y Esquel. Según el testimonio de una participante, "los procesos multipartidistas son muy importantes porque así descubrimos puntos en común para llegar a acuerdos." Esta declaración destaca el objetivo del proyecto, que es abordar la paridad de género como un objetivo transversal que concierne a todos, sin importar las diferencias en las ideologías políticas. El enfoque de empoderamiento y visibilidad del proyecto fue particularmente apreciado por las participantes, una de las cuales afirmó que llevarían lecciones aprendidas a sus organizaciones y "serían una caja de resonancia para otras mujeres que participan en la política."
Published June 23, 2022.