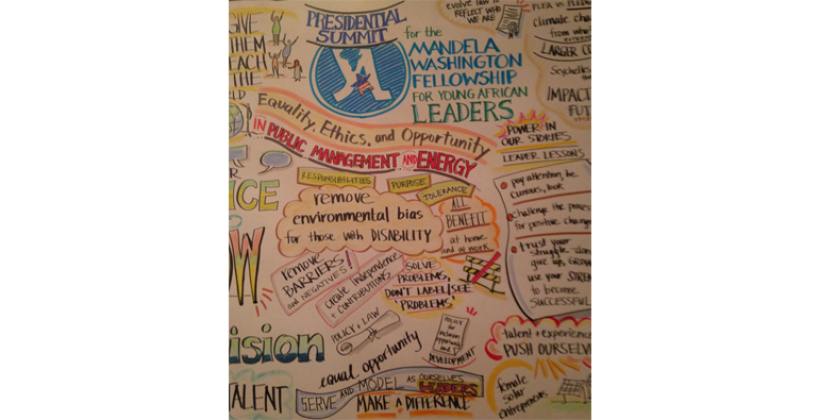 IFES at the Mandela-Washington Fellowship's 2016 Young African Leaders Initiative
On August 2, 2016, the International Foundation for Electoral Systems (IFES) joined over 100 organizations who currently have programs in Africa at the Mandela-Washington Fellowship's flagship Young African Leaders Initiative (YALI). IFES distributed information regarding our programs in the region to reiterate the importance of free and fair elections in creating more responsive governments. Topics covered by IFES included the importance of women's participation in the political process, disability rights initiatives, and the use of technology by electoral commissions. The 1,000 YALI participants were in Washington D.C. for a three-day program at the end of the annual merit-based fellowship, which included networking events and speeches by prominent figures intended to inspire the next generation of African leaders. The participants represent some of the best and brightest of Africa with 49 of the Sub-Saharan countries sending participants in the years since YALI's inception in 2014.
YALI participants attend seminars and workshops at U.S.-based universities for the six weeks before the closing Washington, D.C.-based Presidential Summit that culminates with a town hall meeting hosted by President Barack Obama. President Obama initiated the YALI program to further cement the United States' commitment to supporting Africa by strengthening democratic institutions, promoting trade and investment, and advancing peace and security. Africa's population is relatively young, with 50 to 70 percent under the age of thirty. As such, the YALI participants are uniquely situated to make a substantial impact on their home nations.
During conversations with YALI participants there emerged one unifying sentiment that entered into every discussion whether conversing with a bamboo farmer from Ghana, a political activist from Nigeria, or a women's rights NGO worker from the Union of Comoros: that each of them was ready to take up Nelson Mandela's legacy of leading by example to create lasting change within their local communities. This sentiment was echoed by Obama in his opening remarks during the town hall meeting where he declared, "part of the reason why I love this program is this isn't a matter of what America is doing for you, this is us being partners but mainly seeing what you can do yourselves to change, transform, and build your countries." There is little doubt that this year's fellows intend to change the world for the better.
Throughout the afternoon the IFES Africa team members spoke to many passionate, engaged, and caring individuals who wanted to make their voices heard. Through the Mandela-Washington fellowship they have learned useful skills and forged personal connections with other motivated individuals to ensure the realization of this goal. Many fellows were interested in working with IFES in their own countries. One participant, a youth educator from Zimbabwe, expressed her desire to work with the local IFES team to educate her students on how to fully engage with the electoral system. Another man from Ghana, inspired by his time in the U.S., expressed his desire to start a group with a similar mission to IFES in the hopes that local leaders would respond positively to a community-based free and fair elections organization. All in all, IFES was able to successfully connect with a wide range of individuals who welcomed the support that IFES offers to promote the integrity of the electoral process.
By now the majority of the YALI participants have returned home, however, they are not without resources. In Africa there are Regional Leadership Centers located in Pretoria, South Africa; Nairobi, Kenya; Accra, Ghana; and Dakar, Senegal representing many of the major regions across the continent where alumni of the program can continue to receive support and guidance. Ultimately, the event brought motivated and energetic young people together with organizations that have the ability to support them on their chosen paths whether that path be in health education, political participation, entrepreneurship or something completely new. Through their participation in the event, IFES was able to educate fellows on the importance of their voice in crafting democratic and inclusive futures.