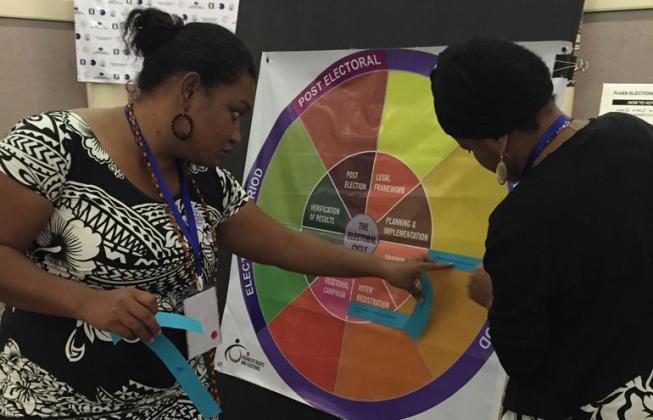 IFES Organizes First Pacific Regional Disability Rights Dialogue
The International Foundation for Electoral Systems (IFES), in collaboration with the Fijian Elections Office, the Pacific Disability Forum, and the Pacific Islands Forum Secretariat held the first ever Pacific Regional Disability Rights Dialogue from May 11-13. The conference, which took place alongside the Pacific Islands, Australia and New Zealand Electoral Administrators Network (PIANZEA) annual meeting in Nadi, Fiji, is the first region-wide gathering of election management officials and disability rights advocates from across the Pacific.
Participants vote on priority recommendations to make to PIANZEA.
The Pacific Regional Disability Rights Dialogue, made possible through the generous support of the Australian Department of Foreign Affairs and Trade (DFAT), aimed to cultivate consultative dialogue among disabled persons' organizations (DPOs) and election management bodies (EMBs) in the Pacific and to increase awareness of election access issues. PIANZEA's support enabled the participation of EMB participants in the dialogue, and over 20 countries were represented during the conference.
Dialogue participants drafted recommendations for PIANZEA on increasing election access of persons with disabilities. The group's advocacy resulted in the inclusion of disability access in PIANZEA's conference statement (see below).
Panel discussions over the course of two days highlighted best practices in the region on inclusion of persons with disabilities in elections and political life. Virginia Atkinson, IFES Senior Access and Inclusion Specialist, gave examples of best practices from around the world on applying Article 29 on the right to equal political participation of the United Nations Convention on the Rights of Persons with Disabilities. IFES Asia-Pacific Regional Director Vasu Mohan highlighted how lessons learned from gender responsive budgeting could be applied to disability rights. The Fiji Commissioner for Human Rights, Ashwin Raj, pointed to an integrated reading of domestic and international human rights instruments as a way to improve access to rights of persons with disabilities through available legal frameworks.
"Recently we launched our elections website. After today's training I realized that there was no facility for visually disabled persons to access this site. Since I am in the IT department, I will look into putting features in the site such as regulations in audio format."
- Anita David, IT and Electoral Rolls Manager, National Elections Director's Office, Federated States of Micronesia
Several EMB participants made commitments to increasing discussion of electoral access. Fiji Supervisor of Elections Mohammed Saneem pledged to start an election access working group, collaborating with local DPOs on making improvements to access and inclusion. A representative of the EMB in Palau noted that this conference was her first exposure to discussion on electoral access and committed to finding a disability access focal point in the election commission.
A pilot Building Resources in Democracy, Governance, and Elections (BRIDGE) training on Disability Rights and Elections took place on the last day of the conference. The module, recently developed by IFES, has been piloted in several countries around the world, including the South Asia Regional Disability Rights Dialogue that IFES organized with DFAT support in October 2015. EMB and DPO participants worked together to identify barriers to participation of voters with disabilities and inclusion strategies.


The conference was live tweeted by @IFESDisability using the hashtag #PDRD16. Follow @IFES1987 and @IFESDisability for more information.
PIANZEA Outcomes Statement (Nadi, Fiji, May 8-11, 2016)
We noted the importance of measures to manage electoral risk and to enhance inclusion and access for all. We received a delegation from the disabled people's organizations from the Pacific Regional Dialogue on Disabilities Rights. We affirm the political rights of people with disabilities and our role as election management bodies in supporting these rights.