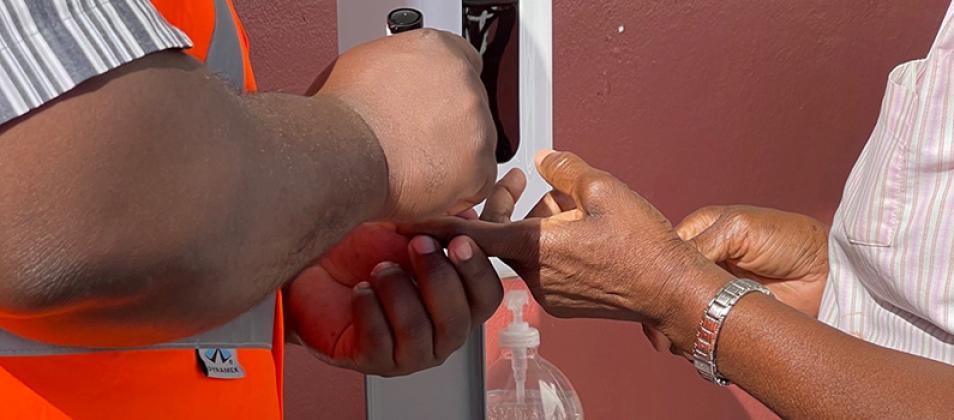 IFES Statement on the Turks and Caicos Islands 2021 General Elections
An independent team of elections experts from the International Foundation for Electoral Systems (IFES) conducted an in-person technical observation and assessment of the Turks and Caicos Islands' (TCI) February 19, 2021, general elections. This included a range of in-person and virtual consultations, and individual visits to all polling stations throughout TCI with the exception of South Caicos Island. This represented 30 of the 33 polling stations set up in Providenciales, North Caicos, Middle Caicos and Grand Turk. IFES also monitored traditional and social media around the election and its aftermath.
The House of Assembly consists of 19 members, 15 of whom are elected and four appointed. Of the 15 elected members, 10 are elected to represent geographic districts in 10 single-member constituencies, while five members are elected in a single "All Islands" district. In 2021, 38 candidates (10 female and 28 male)* contested these 15 seats.
The 2021 elections were conducted following recent legislative reforms in December 2020, and in the midst of a COVID-19 spike on TCI. Despite these challenges, the election administration authorities developed and implemented successful protocols to reduce potential exposure and/or transmission of the virus, and to improve the efficiency of the polling process (for example, by breaking voters into separate stations based on the first letter of their last name, and by dedicating two hours at the start of Election Day to "vulnerable and other priority electors" who could be assisted as needed). Election authorities also conducted extensive poll worker training, including around health protocols, which contributed to the safe and smooth running of the elections.
An Elections Oversight Committee chaired by TCI Governor Nigel Dakin brought together different parts of the government, including health authorities, to discuss and resolve challenges around election preparations during the pandemic. This is viewed as a best practice for these elections generally and should be continued. Consideration could also be given to establishing additional consultations and resolution mechanisms with political stakeholders.
Polling stations were adequately staffed throughout the long polling hours, and election workers carefully implemented COVID-19 mitigation measures. Some minor inconsistencies and variations in application of procedures were observed in some polling stations, but party agents were present in all polling stations visited and generally reported satisfaction with the polling process and the officials administering it. Some polling stations opened slightly late but stayed open late to compensate. Some polling stations included accessibility measures such as adjustable polling booths and ramps, but voters who have low vision or are blind, deaf or hard-of-hearing may have required assistance. Election administrators went to significant lengths to enfranchise prisoners who were eligible to vote.
The distribution of polling sites across TCI, including in areas with very small numbers of voters, was a positive reflection of the election administration authorities' commitment to ensuring all registered voters had an opportunity to cast a ballot.
These elections saw widespread use of social media by both political parties and independent candidates to campaign, given restrictions on gatherings and curfews. This resulted in more direct appeals that may have been more effective and efficient at reaching more voters. Undecided voters could attend virtual rallies at will. Both political parties maintained active social media campaigns and hosted virtual campaign events. However, disinformation was prevalent throughout the campaign, including via fake WhatsApp messages that spread quickly.
The right to vote is set in the Constitution and is dependent upon reaching the age of 18, being resident in TCI, and being a Turks and Caicos Islander. This latter qualification means that out of an estimated population of approximately 43,000 people, only 8,581 are eligible to select members of the House of Assembly. This is a challenge that will be further elaborated in IFES' final election assessment report.
While health concerns dampened the usual festive mood around Election Day, there was an atmosphere of quiet confidence and respect for the electoral process throughout the day. Stakeholders had earlier reported confidence in the process established to address any tensions or disputes that might arise during or after Election Day. This confidence was reflected in the relatively strong voter turnout of just over 75 percent. There were a few requests for recounts in constituencies; however the general air of cordiality that characterized the process throughout the day continued. Final results were announced on February 20.
This statement is preliminary and not conclusive. The electoral process will be followed through until conclusion of any potential recounts and/or legal appeals. A final report with recommendations for electoral stakeholders will be submitted to the UK Foreign, Commonwealth and Development Office by March 31, 2021. IFES wishes to thank all officials and stakeholders who assisted with the mission and took time to engage with us.
###
IFES advances democracy for a better future. We collaborate with civil society, public institutions and the private sector to build resilient democracies that deliver for everyone. As the global leader in the promotion and protection of democracy, our technical assistance and applied research develops trusted electoral bodies capable of conducting credible elections; effective and accountable governing institutions; civic and political processes in which all people can safely and equally participate; and innovative ways in which technology and data can positively serve elections and democracy. Since 1987, IFES has worked in more than 145 countries, from developing to mature democracies. For more information, visit www.IFES.org. IFES is a signatory to the Declaration of Principles of International Election Observation and Code of Conduct for International Observers. This IFES mission to TCI was invited by the governor and funded with UK aid from the UK government.
Media Contact: media@ifes.org
Published on February 20, 2021. *Updated on March 17, 2021.