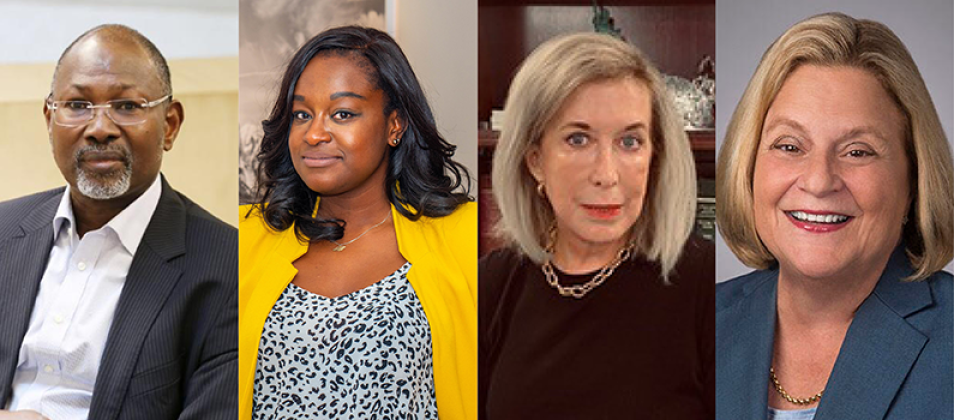 IFES Welcomes Four New Board Members
The International Foundation for Electoral Systems (IFES) welcomes four new members to its Board of Directors. The IFES Board elected for three-year terms Dr. Attahiru Muhammadu Jega, former Chairman of Nigeria's Independent National Electoral Commission; Camille Stewart, the Head of Security Policy for Google Play and Android; Ileana Ros-Lehtinen, U.S. representative for Florida's 27th congressional district from 1989 to 2019; and Sarah Tinsley, a national security professional who started her career with IFES.
"IFES is fortunate to have a global and bipartisan Board of Directors, and our new Board members bring fresh perspectives drawn from their leadership experience, technical expertise and strong commitment to build democracies that deliver for all," said Tony Banbury, IFES President & CEO.
About the New Board Members
Dr. Attahiru Muhammadu Jega was the Chairman of the Independent National Electoral Commission (INEC) of Nigeria from 2010 to 2015, time during which he oversaw the preparation and conduct of the 2011 and 2015 General Elections. He has published extensively on Nigerian politics, elections, democratization and transition to democracy among other important topics.
Camille Stewart is Head of Security & Privacy Policy at Google. Stewart served in the Obama administration as the Senior Policy Advisor for Cyber, Infrastructure & Resilience Policy at the Department of Homeland Security. She has extensive experience as a attorney, speaker and thought leader.
Ileana Ros-Lehtinen served for almost three decades as a member of Congress representing diverse areas in South Florida. She was the Chairwoman of the House Committee on Foreign Affairs and the Chairwoman of the Subcommittee on the Middle East and North Africa (MENA). She was the first Hispanic woman elected to Congress, as well as to the State of Florida House of Representatives and Senate.
Sarah Tinsley is the director of the John Bolton PAC and the John Bolton SuperPAC (2013 to present). She also serves as the director of the Foundation for American Security and Freedom (FASF). Tinsley served as Deputy Assistant to the President for National Security Affairs from May 2018 to Sept. 2019.
###
IFES advances democracy for a better future. We collaborate with civil society, public institutions and the private sector to build resilient democracies that deliver for everyone. As the global leader in the promotion and protection of democracy, our technical assistance and applied research develops trusted electoral bodies capable of conducting credible elections; effective and accountable governing institutions; civic and political processes in which all people can safely and equally participate; and innovative ways in which technology and data can positively serve elections and democracy. Since 1987, IFES has worked in more than 145 countries, from developing to mature democracies. For more information, visit www.IFES.org.
Media Contact: media@ifes.org
Published on September 30, 2020.