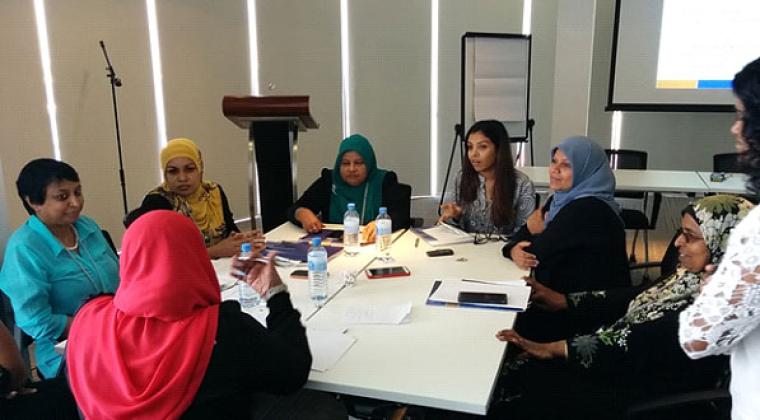 IFES' Women's Leadership Training in the Maldives
From February 10-12, 2015, the International Foundation for Electoral Systems (IFES) Maldives conducted a women's leadership training for 28 female representatives from each of the country's four main political parties; gender focal points at various government offices; and female managers from government bodies as well as the private sector. The training – informed by a needs assessment conducted in the weeks prior to the event – provided participants with a rare opportunity for women to come together across political party lines; learn about domestic violence laws in the Maldives; and build a strong women's network.
IFES Gender Specialist Terry Rogers, Program Officer Lauren Sauer, and IFES Maldives Chief of Party (CoP) Beverly Hagerdon Thakur facilitated the training, which included local speakers such as IFES Maldives Project Officer Ibrahim Thayyib, Member of Parliament Anara Naeem, Senior State Attorney Aishath Mohamed, and Family Legal Clinic representative Shafeea Riza. Andrew C. Mann, Chargé d'Affaires ad Interim at the U.S. Embassy in Colombo, Sri Lanka, officially launched the three-day training event.
The training provided participants with an opportunity to become familiar with sexual harassment and domestic violence laws in the Maldives, as well as a gender and equality bill that is being developed by the Attorney General's Office for presentation to Parliament. Most participants were unfamiliar with the gender and equality bill, as it has not yet been brought forward for public comment. Participants had very mixed views on this important piece of legislation. Participants' responses indicate that this bill will be met with controversy and that a formal consultation with women leaders would greatly enhance the possibility that the bill could be crafted in such a way as to garner support from women leaders in the Maldives. There is likely to be a great deal of debate when the bill is brought before Parliament and having clear support by women leaders across party lines would help support the passage of the bill. 
Second, the training provided a rare opportunity for women to come together across political party lines. It was heartwarming, particularly in this context, to witness participants recognizing leadership qualities they had observed in each other through their professional interactions and during the training itself. Interestingly, many of the women who were recognized by other participants as having leadership qualities did not identify leadership qualities in themselves. Participants also encouraged each other in a public speaking exercise, which was an extremely challenging for many of the participants. Several participants took advantage of an opportunity for additional public speaking practice at the end of the second day of training. One participant said that she learned to not just state the problem, but be solution oriented during public speaking.
Third, an important lesson learned was how critical it is to make an effort to include women leaders from the private sector in this training, rather than limiting outreach efforts to female representatives from the government and the main political parties as is typically the case for such trainings. The importance of including women leaders from the private sector was made clear by the fact that several of the women representatives from political parties indicated they had ambitions to start small businesses or develop property which they owned, so that they could become financially independent.  Financial independence is a key and often missing ingredient for women interested in pursuing political office because running political campaigns are expensive and often politicians are extremely wealthy individuals or come from affluent families. Having a woman leader from the Bank of the Maldives at the training provided a key opportunity for these participants to learn about loan opportunities. 
Finally, a strong network emerged from the training, another key and often missing ingredient for women wishing to succeed in public life. The participant from the Bank of the Maldives created a social network group to keep the participants connected following the training. IFES Maldives CoP Beverly Hagerdon Thakur offered the IFES Maldives office as a gathering space for participants to continue meeting and provide each other with mutual support and also offered one-on-one leadership coaching to the participants, to which there was an immediate response.