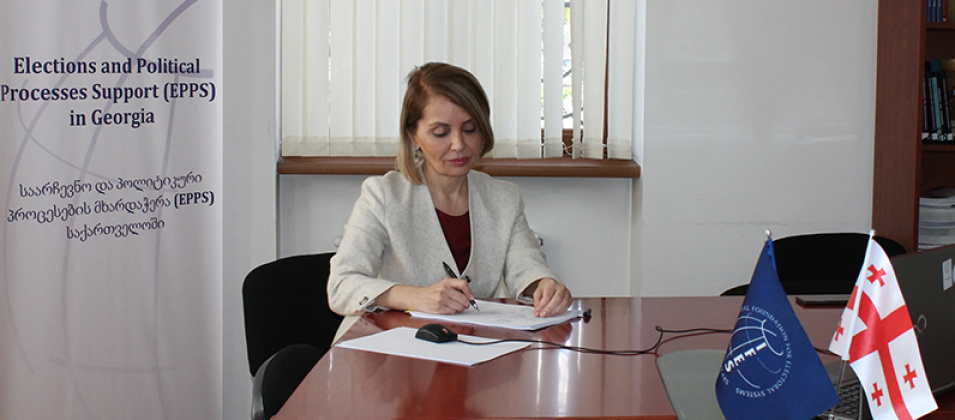 Innovating in Response to COVID-19 Moves Cybersecurity Forward in Georgia
On March 31, the International Foundation for Electoral System (IFES) held a virtual signing ceremony in partnership with the Georgian Central Election Commission (CEC), information technology vendor UGT and the United States Agency for International Development (USAID) to launch cybersecurity enhancements to protect Georgia's elections from malign influence. Shifting the signing ceremony to a virtual format capped off IFES' efforts to innovate in the face of the global COVID-19 crisis. These efforts mitigated the risk of delay to the cybersecurity infrastructure improvements and training that will allow the CEC to detect and mitigate attacks against the scheduled October 2020 Georgian elections and its broader systems.
IFES and its partners worked closely to address viability challenges to the equipment's supply chain. Shortages, border restrictions and city lockdowns due to COVID-19 disrupted many suppliers' ability to provide equipment as originally planned. Close coordination and advance negotiation with suppliers allowed the partners to secure needed equipment and shift plans as necessary. Active contingency planning added further flexibility, such as preventing a cascading impact due to a delay in delivery of some equipment by using existing CEC parts as a temporary stopgap, which allows the setup of the improved system to continue.
Working with the CEC, IFES has adapted its training plan to account for the ongoing nationwide quarantine in Georgia. Beyond shifting to online communications and training platforms, IFES has also modified its training methods to maximize their learning experience. For example, IFES is testing a half-day structure – as opposed to a full day – to mitigate the challenge for participants of remaining fully engaged while in front of a computer screen for an extended period. These plans will continue to be assessed and adapted throughout implementation.
The global rise in cyberattacks against election infrastructure is an important concern in Georgia, where cyberattacks threaten to significantly impact electoral operations and public confidence in politics and governance. This risk is exacerbated for Georgia given its long history as a target of cyberattacks, such as during the massive October 2019 cyberattack that knocked out more than 2,000 websites and the national TV station, and the leak on April 2, 2020, of personal details of the entire Georgian citizenry. The new cybersecurity infrastructure and training will be key to protecting election information assets in Georgia. IFES maintains a longstanding partnership with the CEC and trust of the Parliament, government and political parties across three decades, which continues to allow it to operate effectively in a polarized and delicate political environment.
These activities are made possible with support from USAID through the Consortium for Elections and Political Process Strengthening (CEPPS) under the Georgia "Elections and Political Processes Support" project. Established in 1995, CEPPS pools the expertise of three premier international organizations dedicated to democratic development: IFES, the International Republican Institute and the National Democratic Institute. CEPPS has a 20-year track record of collaboration and leadership in democracy, human rights and governance support, learning from experience, and adopting new approaches and tools based on the ever-evolving technological landscape.