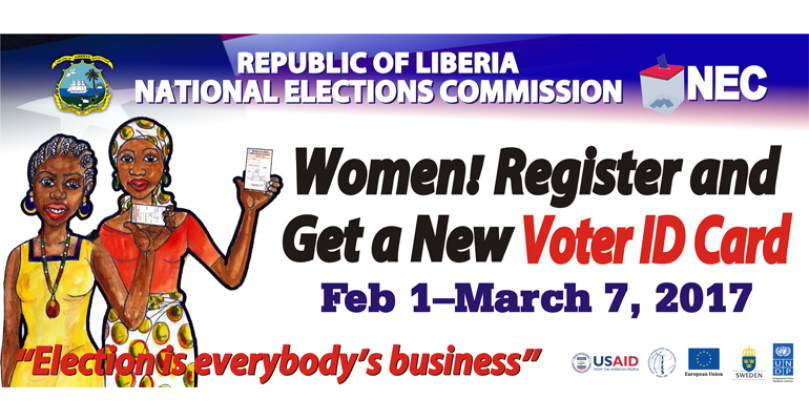 Modernizing Civic and Voter Education in Liberia
Effective information dissemination is one of the pillars of democratic elections. In post-conflict countries like Liberia, where citizens' faith in the system needs to be reaffirmed because of the daunting levels of illiteracy and poverty, mass media is vital to facilitating dialogue, debate and discussion between the masses and policy-makers and elected officials.
The upcoming presidential and senatorial elections slated to be held on October 10, 2017, will be a landmark event in Liberia's troubled political history, as the first peaceful transition between two democratically elected governments. With funding from the United States Agency for International Development, IFES has partnered with Liberia's National Elections Commission (NEC) since 2004 to support inclusive and participatory electoral processes. Jointly designed and implemented civic voter education campaigns have successfully reached prospective voters through various modes of mass media, including print media, radio, internet, and face-to-face engagement.
Since the 2011 presidential elections, Liberia's media landscape has undergone a sea change. The introduction of 4G internet and the sharp rise in the use of social media platforms – such as Facebook – now provide new avenues to disseminate information via audio-visual content and reach out to Liberian youth, the largest demographic of the country. IFES' two-pronged approach toward content creation and dissemination relies on the radio to target the older generation and social media to interact with the youth.
As radio forms the spine of traditional information dissemination in Liberia, IFES launched an extensive civic and voter education campaign on the country's national radio station. Seeking to address the lack of well-produced, quality broadcast content, IFES engaged the New Liberia Media Initiative (NLMI), a reputable local production agency with extensive experience in radio production, to produce and broadcast 50 episodes of IFES' flagship talk show "Elections and You," as well as an elections-themed radio serial and several public service announcements.
IFES relaunched "Elections and You," first broadcasted in 2011, with a new format that has defined segmentation and a better planned content approach. Topical issues, in-sync with the NEC's electoral timeline, are shared with NLMI, along with key NEC officials, civil society organizations and experts to discuss each topic. The themes have covered the establishment of extra voter registration centers, messaged to enhance women's participation in the electoral process, and the rampant crime of "trucking" – a practice in which voters are transported to vote in other parts of the country, which heavily impact the integrity of the elections.
Issues such as inclusiveness and voter apathy are the main topics of discussion and are core messages for the short radio serial episodes and public service announcements. This content reinforces the NEC's motto: elections are everyone's business. The show is conversational and easy to consume, with simplified information and a large call-in component, which allows the electorate to ask questions to related experts. The radio serial and public service announcements are also indigenous in their tonality and attempt to capture the rhetoric of the voters, making them relatable to the listeners. These audio products have also been translated in four of the most widely spoken dialects across the country and are broadcast on a network of community radio stations to maximize geographic saturation.
Liberian youth, however, are more receptive to visual media. With Facebook's Free Basics being introduced in the country (which provides people with access to basic websites on their mobile phones in markets where internet access may be less affordable), various electoral stakeholders are using new media as a feasible and influential platform for campaigning, as a forum for public debates, and as a means to increase civic education. By embracing this opportunity to adapt traditional civic education vehicles, IFES began its web campaign by giving the NEC a new digital identity on social media. The NEC's Facebook and Twitter pages were created to capitalize on the booming number of Facebook users in Liberia by using storytelling and local narratives to encapsulate electoral messages targeting specific audiences. The first of the videos was released to mark the beginning of the election year on October 10, 2016, which marked the one-year countdown to the 2017 elections.
Of the videos produced by IFES, one set featured NEC executives discussing their respective areas of expertise, such as the civic and voter education director addressing first-time voters, and the director of communications discussing the damage caused by rumor mongering. Another captured a message from the director of the National Union of Disabled issuing a request to the disability rights community to register in large numbers. Yet another dealt with rhetoric specific to a sub-group such as young football fans, likening registering to supporting the Liberian national team, and stay-at-home mom's getting involved with the voting process for the sake of their children. These videos been viewed over 28,000 times in less than three months.
By modernizing civic and voter education methods in Liberia, IFES and the NEC are breaking historic barriers to voter participation – namely illiteracy and inadequate access to information. As this monumental exercise nears, it is hoped that these new approaches to civic and voter education are reflected through voter participation in this significant post-conflict milestone.