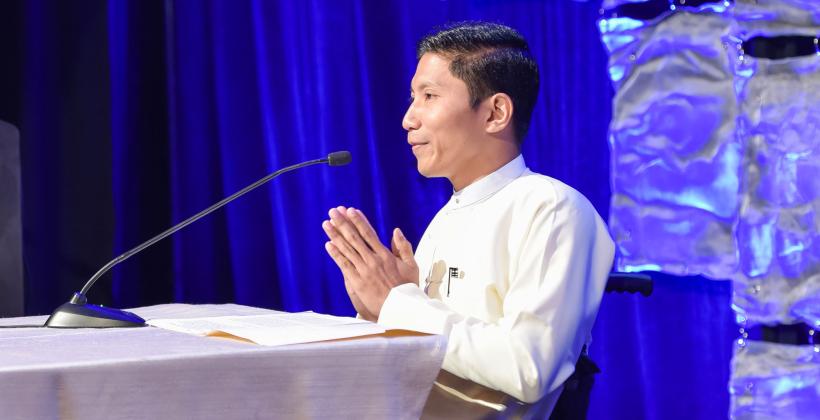 News and Updates
Interview/Speech/Testimony
Nay Lin Soe Remarks: 2016 Charles T. Manatt Democracy Awards Ceremony
Honorable IFES President and CEO Bill Sweeney; Donald Sweitzer, Chairman of the IFES Board of Directors; Kenneth Blackwell, Secretary of the Board; other members of IFES' Board of Directors; Democracy Award Co-Chair and IFES Board Director Dan Runde, Director of the Center for Strategic and International Studies' Project on Prosperity and Development; Co-Chair Honorable Theodore Sedgwick, former U.S. Ambassador to Slovakia; Bay Fang, Managing Director of Radio Free Asia; members of U.S. Congress; members of the media; distinguished guests, ladies and gentlemen.
Min Ga Lar Par – Good evening!
First of all, I would like to express my sincerest thanks to IFES' President and CEO Bill Sweeney, IFES' Board of Directors, all IFES staff members in Washington, D.C. and the IFES Myanmar office for the great support to my organization, the Myanmar Independent Living Initiative (MILI), and our disability rights movement toward accessible and inclusive elections in Myanmar. IFES' support played quite an important role in this movement which has brought wonderful, historic changes and significant achievements for people with disabilities especially in this transition period of democratic reform in my country. Thank you so much for that.
And I also would like to give thanks to my colleagues at MILI, my peers with disabilities and our partners in Myanmar and internationally who worked hard to contribute to this movement with me. I feel that being honored with the Charles T. Manatt Democracy Award is not just my success. It is the result of collective efforts and is a huge success for all of us. I am so honored and grateful beyond words to receive this award tonight on behalf of persons with disabilities in Myanmar and people around the world who are working for disability inclusion.
As you all know, 15 percent of the world's population (approximately one billion people) are living with a disability. They are a part of every community and are not confined to nationality, ethnicity, age, gender, class, or religious belief. This group has faced systemic and persistent forms of discrimination, segregation, exclusion, and sometimes elimination – socially, economically and politically – throughout history. As result, most of them are marginalized and are excluded from society. Their human rights are denied in many countries, particularly their political and electoral rights, which are not widely encouraged and recognized yet by their governments. We need to stand for them and expand our movement to work for their inclusion.
According to the World Report on Disability, there are approximately eight million persons with disabilities in Myanmar and 64 percent of them are eligible voters for elections. However, a majority of them faced limitations and discrimination in participating in previous elections and political movements of the country. At the same time, 53 percent of persons with disabilities do not have access to primary education, 85 percent of adults with disabilities are unemployed and 62 percent of families with disabilities are landless in Myanmar.
In the electoral sector, as my country's work in elections is new, we do not have much experience in electoral engagement. My organization, MILI, is the first disabled persons' organization that has engaged in political and electoral movements with the government, and has been working to promote disability access in elections since 2012 through the support of IFES and AGENDA – the Association of Southeast Asian Nations (ASEAN) General Elections Network on Disability Access. While MILI builds its' own capacity to work in the political and electoral fields, it also facilitates other disabled persons' organizations and works to increase their participation in elections and political life. And then, we have furthered our movement and extended collaboration with the UEC – Myanmar's Union Election Commission – the Parliament, political parties and civil society organizations, and building a bridge between disabled persons' organizations and these stakeholders. Significant major achievements through these efforts within a short period include:
Disability accessible voter education materials and advocacy tools were produced and made available in local languages for the first time in Myanmar.
Persons with disabilities, their families and disabled persons' organizations have increased access to civic and voter education trainings across the country.
Disability inclusion chapters and perspectives were incorporated when the UEC developed their Strategic Plan for 2014-2018 and amended election regulations.
Activists and trainers with disabilities from MILI were invited as resources for UEC staff trainings, for the national voter list registration pilot project and civil society organizations' involvement in the 2015 general elections.
Accessible and disability friendly polling stations were implemented at four locations in Myanmar as model polling stations.
The first Braille ballot system was developed and implemented in the 2015 general elections so that voters with visual impairments could vote independently in secret without assistance. 
Eighty-six percent of persons with disabilities participated in the 2015 elections according to a survey conducted by MILI.
My organization, MILI, has been invited to share its' electoral experiences at regional dialogues and conferences in Asia and the Pacific.
While maintaining our existing activities and celebrating these achievements and building our capacities, we all need to work together to break down barriers in political and electoral legal frameworks in countries around the world that restrict the full participation of persons with disabilities in elections and in political life. United Nation Convention on the Rights of Persons with Disabilities Article 29 clearly states that all state parties have a duty to guarantee political rights to persons with disabilities and the opportunity to enjoy them on an equal basis with others. To achieve this, state parties should ensure that voting procedures, facilities and materials are appropriate and easy to use for persons with disabilities, protect the rights of persons with disabilities to vote by secret ballot, to run as candidates in elections and to hold office as elected representatives.
Today in the 21st century, we persons with disabilities say we are disabled because of "society," not because of our individual physical, mental, sensory or intellectual impairments. The barriers in society, particularly environmental, attitudinal, communication and policy barriers, restrict and limit our participation in society. Therefore, our common duty is to remove these barriers to make our society accessible and inclusive for all. At the same time, I would like to ask the world to see our "abilities," not our "disabilities." We are not just the beneficiaries or dependents of the community but also contributors and productive human resources for our society. Let us try to work together to mainstream disability issues in all areas including political and electoral sectors. Today it is widely accepted by all concerned globally that accessibility for persons with disabilities is a political issue, it is a development issue, it is a human rights issue and it is a social justice issue.
In conclusion, I would like to give heartfelt thanks again to IFES and all the supporters and organizers of this awards ceremony. Honoring me with this award this year not only highlights the important role of inclusion of persons with disabilities in Myanmar's democratic reform process but also highlights the need to mainstream disability in the global development agenda. For myself, as I have been continuously working not only for national disability organizations in Myanmar but also the regional organization ASEAN Disability Forum, I commit to increase my participation and movement in the international community to make equal political and electoral rights of persons with disabilities a reality. I am pleased, honored and humbled to accept this award.