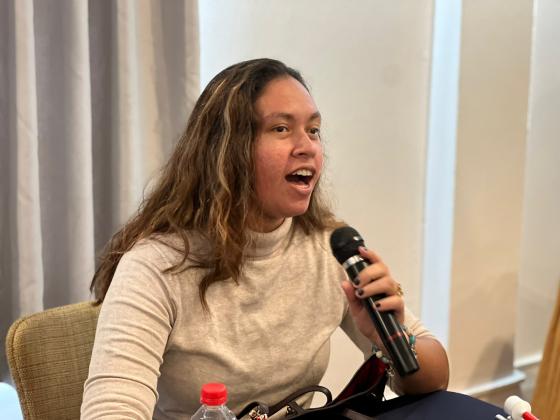 One Young Woman's Journey to Building a More Inclusive Guyana
Pull Quote Text
"I always tell them that I was once there, I know what it feels like to not want to speak out or be the person in the spotlight, I tell them that there is so much satisfaction that comes from knowing that you have an important role to play."
Credit
Youth ALLIES participant
When Rosemarie Ramitt was thirteen, her daily routine suddenly changed from learning in the classroom every day with her peers to sitting in the hospital with her parents after she lost her sight. 
She felt hopeless about her future, as her friends moved on to high school without her, since schools didn't have the resources to assist her. Not knowing how Rosemarie would be able to navigate a job without being able to see, Rosemarie's parents assumed they would take care of her for the rest of her life. 
"My parents didn't know what to do, where to go, where to seek assistance or access resources because nobody in my family has a disability," Rosemarie said. "I was the first one, so we were clueless. Other than hospitals, I didn't go anywhere for two years." 
One day in the hospital, Rosemarie's father submitted her information to the National Commission on Disability. What seemed like a routine submission turned into a life-changing opportunity for Rosemarie, after the Guyana Society for the Blind (GSB) invited her to a training for people with visual disabilities. 
According to government data, there are at least 50,000 persons with disabilities in Guyana, accounting for 6.4 percent of the total population. The actual number is likely significantly higher due to stigma and isolation, among other factors, that lead to underreporting of disabilities, particularly among Indigenous communities and those with less access to education and resources. By some counts, of these individuals, about 14,000 have visual disabilities and 3,000 are blind. 
The technology training organized by the GSB ultimately let Rosemarie finish her secondary education by using a computer to complete the state-mandated exams. Rosemarie then decided to pursue education as a career path while combining her passion for advocating for persons with disabilities. 
But even as she became a prominent disability rights advocate in Guyana, she still shied away from the spotlight and leadership positions. "I used to always turn opportunities down because I didn't feel like I had what it took," she said. 
Rosemarie arrived at a turning point in her career and activism when she participated in the IFES-implemented USAID Youth Advocacy, Linkages, Leadership in Elections and Society (Youth ALLIES) program, where she discovered the transformative power of her own voice and opinions. 
"That training unlocked a part of me that I didn't even know existed," Rosemarie said. "I felt so confident. I felt like my opinion and perspective mattered. Because of that, now I have gone on to undertake so many things that two, three years ago, you would never find me doing." 
Designed in close partnership with a diverse group of young people, the Youth ALLIES program builds the leadership skills and civic knowledge of young people so that they can realize their own potential and contribute to positive developments in their communities, explains IFES Guyana Country Director Meredith Applegate. 
With her newly found confidence and knowledge about local government, Rosemarie began interacting with government ministers about education and development. During one meeting, she suggested improving a bridge that she considered unsafe for the community, especially for persons with disabilities.  
One week later, the minister told her that construction would begin on the bridge, a vital piece of infrastructure for the community since it needs to be crossed to access public transportation, schools and stores. 
"Now every time I cross the bridge with my sibling, I always tell them to go ahead because now I can walk on my own," Rosemarie said proudly, noting that she previously had a panic attack when crossing it. 
Her advocacy has only just begun, now serving on the global CEPPS Youth Advisory Group and having moderated Guyana's first national youth with disabilities conference (under the Youth ALLIES program) this past December. While continuing to be a vocal advocate and to facilitate her own trainings for youth with and without disabilities, Rosemarie is already looking forward to sitting in the backseat when the young children she is now teaching become the next generation of leaders.  
"I always tell them that when I get older, I want to retire and be happy. I don't want to still be at the forefront. I want them to take over, but the only way that can happen is by them coming out and speaking out."