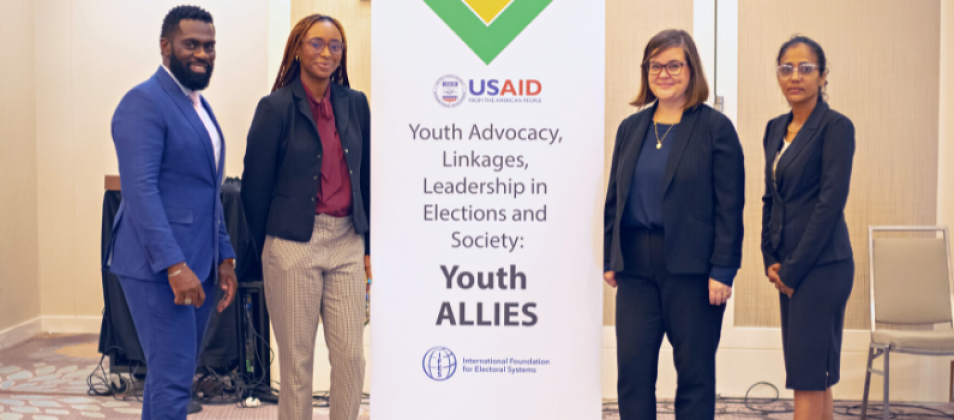 IFES Launches New Youth ALLIES Program in Guyana
The U.S. Agency for International Development Eastern and Southern Caribbean (USAID/ESC), in collaboration with the International Foundation for Electoral Systems (IFES) Guyana team, officially launched its Youth Advocacy, Linkages, Leadership in Elections and Society (Youth ALLIES) Program on May 13 in Georgetown. Over the next three years, Youth ALLIES will work closely with young people and Guyanese stakeholders across the country to provide youth with the skills and knowledge they need to strengthen their participation in problem-solving at the community level and increase their participation in political life.
Speaking at the launch event, U.S. Ambassador to Guyana and the Caribbean Community Sarah-Ann Lynch stated, "Young people's active contributions give life to democratic values, and the United States is committed to supporting that wherever we can." Ambassador Lynch also highlighted that "[Youth ALLIES] was designed with young people in mind, it was planned with the input of young people, and the outcomes will benefit young people." Also giving remarks at the ceremony were IFES Country Director Meredith Applegate and key Youth ALLIES partner representatives, Dmitri Nicholson from Youth Challenge Guyana and Dr. Quacy Grant from Guyana National Youth Council. A brief video with participants from the Guyana Council of Organization for Persons with Disabilities spoke to the impact that Youth ALLIES can have in Guyana. In the video, participants discussed how they will use their new skills to impact their communities in a positive way. The program closed with a brief musical performance by Rowell and Rondell Sumner, two young, gifted musicians with disabilities who sang about never giving up in the face of challenges.
The Youth ALLIES program was designed in close collaboration with the government of Guyana and Guyanese stakeholders and will be implemented over the course of the next three years. The program aims to engage a diverse group of young people across Guyana to increase their knowledge of democratic processes and build their capacity and skills to meaningfully engage in public life.
IFES has worked with over 145 countries since 1987 to promote the development of democracy for a better future. We collaborate with civil society, public institutions and the private sector to build resilient democracies that deliver for everyone. As a global leader in the promotion and protection of democracy, our technical assistance and applied research develops trusted electoral processes; civil and political processes in which all people can safely and equally participate; and innovative ways in which technology and data can positively serve elections and democracy. IFES is excited to launch this new program and looks forward to seeing the achievements of young people across Guyana.
Published on May 23, 2022.