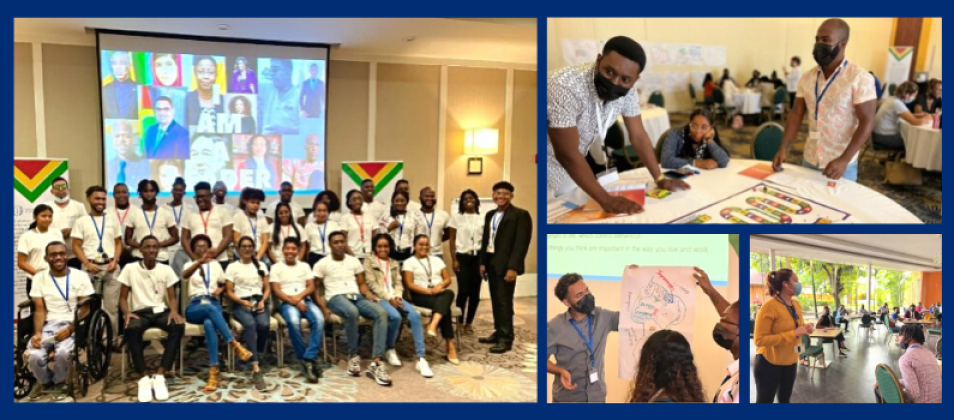 Youth ALLIES Program Trains 35 New Youth Educators
The International Foundation for Electoral Systems (IFES) congratulates 35 new, dynamic Youth ALLIES trainers in Guyana. From June 28 to July 2, a diverse group of young people engaged in a five-day civic education training in which they learned how to build the leadership and problem-solving skills of other young people in their communities. Upon completion of the training, the participants will start putting these skills to practice as they host workshops across the country. This program is part of the Youth Advocacy, Linkages, Leadership in Elections and Society (Youth ALLIES) initiative, made possible with the support of the United States Agency for International Development (USAID).
Thirty-five people between the ages of 18 and 30, representing a diversity of backgrounds, ethnicities, religions, genders and regions, completed the training. Participants included representatives from the Guyana National Youth Council, Youth Challenge Guyana, the Guyana Council of Organizations for Persons with Disabilities (GCOPD), the Guyana Rastafarian Council, the National Toshaos Council, the Amerindian Peoples Association and the Society Against Sexual Orientation Discrimination. The group was also joined by participants of previous IFES-led focus group discussions from different regions in Guyana, where IFES met with young people to hear what they would like in terms of training on leadership and youth development.
Throughout the five-day training, the participants immersed themselves and displayed great respect for different views, experiences and identities. One GCOPD representative observed that this was his first time experiencing a training in which participants with disabilities were fully included and treated equally. This, he commented, is indicative of the potential of the Youth ALLIES program to successfully promote inclusion and access for marginalized communities in Guyana.
One highlight of the training was the insight the participants gathered from each other and incorporated into the discussion. Each participant brought unique knowledge to the table, such as awareness around inclusivity practices or understanding of local laws on women's and youth's civic participation. With the combination of different expertise, the sessions were significantly productive and yielded positive results for both personal growth and further civic engagement.
After the training, participants recognized a great deal of self-development and felt poised to be more engaged in public speaking, especially in order to speak on and identify issues affecting them and their communities. One participant noted:
"I've learned in interesting ways how [government and democracy] all function, my rights and how to educate other like-minded individuals. It's definitely a productive experience and one that I've enjoyed totally. I also had the privilege of connecting and building with other youths in and around my region who have similar views and values. This motivational program had a positive impact and I see myself endorsing everything learned."
This group of "youth allies" will now go on to hold trainings across Guyana for other young people on leadership, problem-solving, civic education and democracy – creating an even larger group of youth allies who will then use activities and civic education games to share knowledge and skills further with their peers. Trainings led by this core group began in three locations (Port Mourant, Linden and Bartica) at the end of July.
With the completion of this training, the participants can draft proposals for micro-funding through community action initiatives to put their new problem-solving skills to use at the local level.
As the Youth ALLIES program continues, IFES Guyana and its partners will continue to engage diverse groups of young people across Guyana to increase their knowledge of democratic processes and build their capacity and skills to meaningfully engage in public life.
About Youth ALLIES
The Youth ALLIES program was launched May 13, 2022. It was designed in close collaboration with the Government of Guyana and Guyanese stakeholders and will be implemented over the course of the next three years.
Published August 2, 2022.