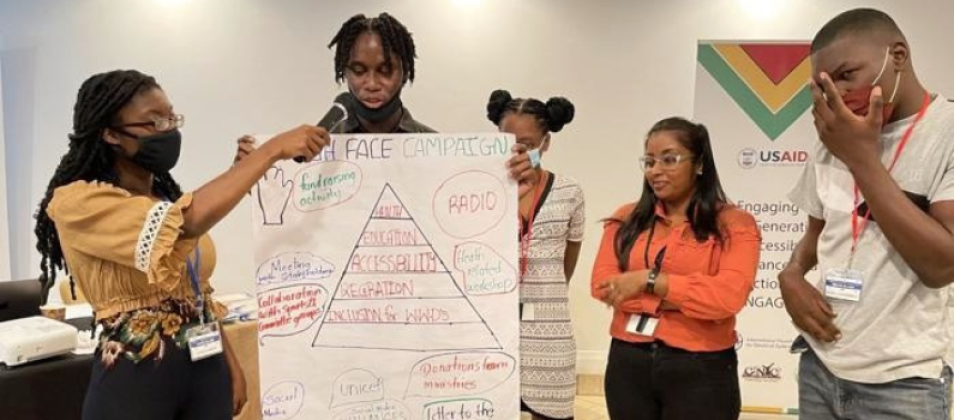 Engaging Young Leaders with Disabilities in Guyana
As part of its Youth Advocacy, Linkages and Leadership in Elections and Society (Youth Allies) project in Guyana, and with support from the United States Agency for International Development (USAID), the International Foundation for Electoral Systems (IFES) brought 26 young people with disabilities from seven of the 10 regions in Guyana together to participate in its Engaging the Next Generation for Accessible Governance and Elections (ENGAGE) young people with disabilities leadership program.
The ENGAGE training focused on building participants' leadership skills and increasing their understanding of political and civic processes, over three days. Participants practiced their public speaking and networking skills, learned more about Guyanese government and disability rights frameworks and were exposed to a range of advocacy and civic engagement tools. Guest speakers included Guyana Council of Organizations for Persons with Disabilities (GCOPD) Director Ganesh Singh, GCOPD member Rosemarie Ramitt and an advisor to the police force, Mandell Moore. The speakers provided insight into being leaders with disabilities in Guyana and gave participants the opportunity to ask questions about how they have overcome barriers to participation and leadership.
"Being an active wheelchair-user, my takeaway from this training is that this will change my decision making and the actions I will be taking. With what I have learned from this workshop, I have more knowledge and have an action plan to change the lives of people with disabilities in my region. This is going to impact the lives of the people I know." – Young Indigenous participant
The ENGAGE participants were 18 to 29 years old and had a range of disabilities, including participants who are blind or have low vision, participants from the Deaf community, people with physical disabilities and persons with intellectual disabilities. For the majority of the young people in attendance, this was their first time participating in an interactive training on governance and leadership. A number of participants shared that building a network with their peers will help them accomplish change in their communities and support each other as they pursue political and civic engagement. Participants also committed to staying in touch via a WhatsApp group and to identifying and contacting their local government representatives to discuss issues important to their community. As a follow-up to the initial training, ENGAGE participants will reconvene virtually to share their experience and discuss their next steps as leaders.
Published on June 7, 2022.