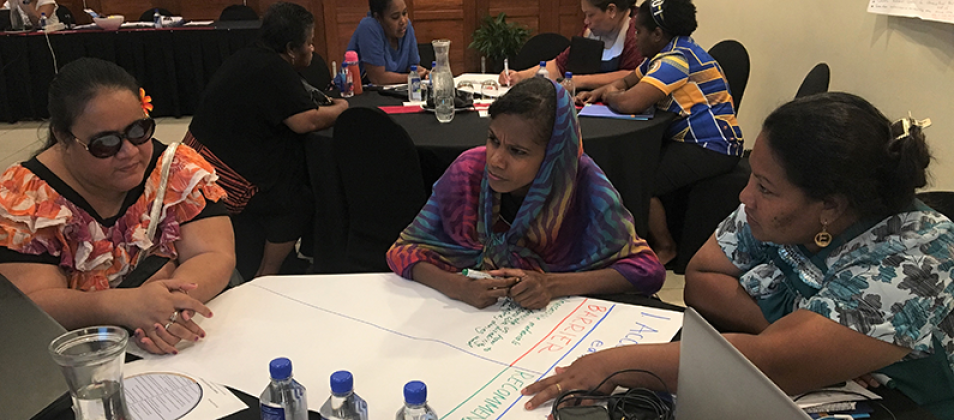 Photo Gallery: Pacific Women with Disabilities Empowered to Advocate with Government Officials
Women with disabilities often face multiple forms of discrimination and a lack of access to decision-making processes. In the Pacific Islands region, there are an estimated 775,000 women with disabilities. The International Foundation for Electoral Systems (IFES) partnered with the Pacific Disability Forum (PDF), a network of disabled people's organizations across the Pacific Islands, to train 15 women with a diverse range of disabilities as part of the "Power to Persuade: Empowering Women with Disabilities to Influence Public Policy" program from September 13-16, 2019, in Nadi, Fiji. The women represented 10 Pacific Island countries, including Fiji, Kiribati, Marshall Islands, Nauru, Palau, Samoa, Solomon Islands, Tonga, Tuvalu and Vanuatu.
"With the elections that just finished in Tuvalu, I thought it was very good and very inclusive, but… I realize there is a lot of work that still needs to be done. [In this training,] I learned about how to [advocate for] policies that relate to women with disabilities' political participation. Now we can share how we did this and share other examples and ideas from across the region. I'm hoping to go back and improve the current situation we have at home." – Young Deaf woman from Tuvalu
The training was led by PDF Programs Team Leader Angeline Chand, PDF Manager of Planning, Policy and Advocacy Laisa Vereti, United Blind Persons of Fiji Project Officer Anaseini Vakaidia, IFES Inclusion Officer Hilary Collins and IFES Senior Program Officer Lauren Sauer. The training focused on enhancing participants' public speaking and advocacy skills through a series of interactive sessions including role-play exercises and reflective group discussions. The training also provided a platform for participants to share their work on political participation and gender with one another, as well as highlight best practices and discuss lessons learned for promoting the inclusion of women with disabilities throughout the region.
In the second half of the training, participants used the knowledge and skills they gained to develop a unified policy platform and practice advocating to government stakeholders. The policy platform on political participation focused on inclusive voter education, physical accessibility during the electoral process, representation of women with disabilities in government and cultural and gender norms impacting women with disabilities' political participation. Participants designed individual advocacy plans based on the policy platform, which will be used to advocate to government officials and other decision-makers to increase opportunities for the participation of women with disabilities in public life in their respective countries.
"This was the first time we did advocacy for [women with disabilities] in our country and we learned how to do it step-by-step, in the proper way. I also learned how to communicate with the government in different ways. We learned how to do letter writing and face-to-face communication, which will help us continue our work to empower women with disabilities." – Young woman with a physical disability from Tonga
A photo gallery of the training can be found here or by clicking the image below.
Women with disabilities identify government stakeholders to target for policy platform advocacy.
The Pacific Islands "Power to Persuade" program was made possible through the support of the United States Agency for International Development through the Consortium for Elections and Political Process Strengthening (CEPPS).
Established in 1995, CEPPS pools the expertise of three premier international organizations dedicated to democratic development: IFES, the International Republican Institute and the National Democratic Institute. CEPPS has a 20-year track record of collaboration and leadership in democracy, human rights and governance support, learning from experience, and adopting new approaches and tools based on the ever-evolving technological landscape.