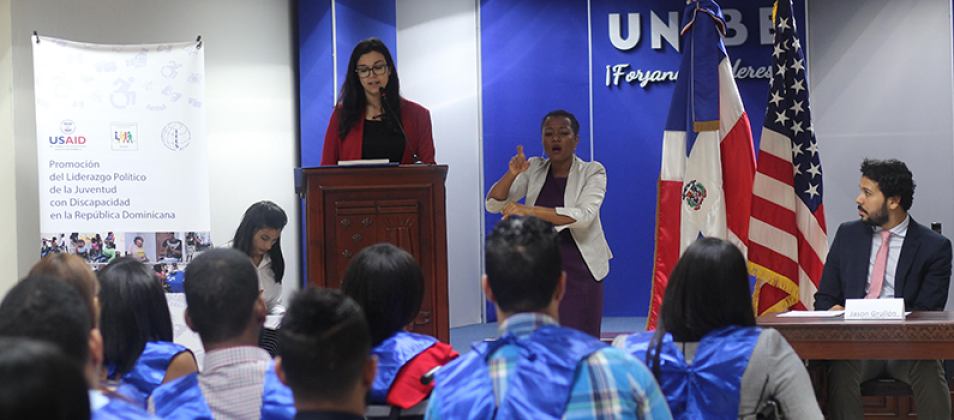 Promoting the Political Empowerment of Youth with Disabilities in the Dominican Republic
by Fernanda Buril*
On December 13, 27 Dominican youth with disabilities celebrated completing the Engaging a New Generation for Accessible Goverance and Elections (ENGAGE) course at the Iberoamerican University (UNIBE) in Santo Domingo. The graduation ceremony was attended by students' family and friends, as well as by the United States Agency for International Development (USAID) and the Disability Alliance for Our Rights (ADIDE), a Dominican civil society organization that advocates for the rights of people with disabilities.
The eight-week course on leadership and political processes was developed through collaboration between the International Foundation for Electoral Systems (IFES), UNIBE and ADIDE as part of the USAID-funded project, "Political Leadership of Youth with Disabilities in the Dominican Republic." The interactive course featured study tours to municipal government institutions and the Central Electoral Board, guest lecturers with extensive experience in political administration and a civil society fair to increase students' knowledge of other local organizations working on issues related to disability and political rights.
Starting in January, students will be placed in internships with government institutions and civil society organizations, an opportunity to apply the knowledge and skills they gained during the course.
"Before the course I didn't feel the need to be part of any political groups. Now I understand that it is my duty to fight for my rights and those of all other people with disabilities." – A course participant
Another student expressed her satisfaction with the course, mentioning how it contributed to her personal growth and empowerment.
IFES will continue working to empower youth with disabilities in the Dominican Republic and around the world, raising awareness about the barriers to political participation and empowering individuals and institutions to overcome them.
 
*Buril is a program officer for the Americas and technical coordinator for electoral operations at IFES.