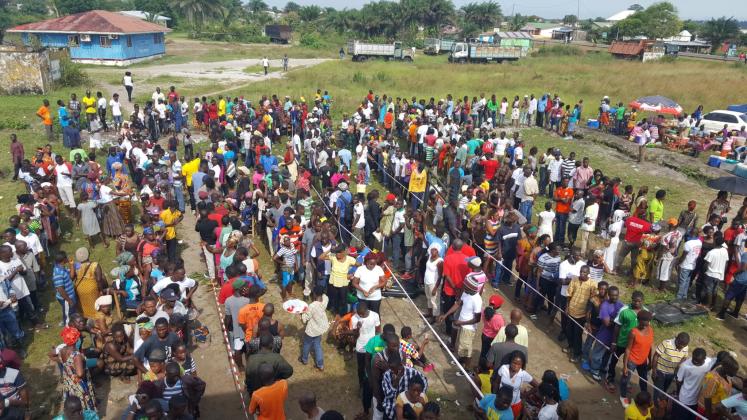 Robust Multimedia Campaign Supports Liberia's Pivotal 2017 Elections
Conducting elections in Liberia is a challenging endeavor. Along with a lack of basic transportation and communications infrastructure, over half the population (53%) is illiterate. As such, civic and voter awareness campaigns cannot be conducted through many traditional mediums like print media. In partnership with the National Elections Commission (NEC) and 27 grassroots civil society organizations (CSOs) in all 15 counties of the country, the International Foundation for Electoral Systems (IFES) Liberia team developed a creative and compelling voter education and awareness campaign.
With radio being the dominant form of mass communication, IFES has produced weekly radio programs, "Elections and You" and "Say Yes to Peace," which provide voter information to Liberians, allowing them to ask questions directly to NEC commissioners, and promoting the importance of a peaceful, democratic transition of power.
IFES also collaborated with Miatta Fahnbulleh, Liberia's most famous singer who performed at outgoing President Ellen Johnson Sirleaf's Nobel Peace Prize ceremony, on a song encouraging Liberians to "say no to election violence." The song has become a phenomenon, played on community-based radio stations throughout Liberia, from the capital of Monrovia to the most remote parts of the country.
Additionally, IFES produced a suite of videos with the NEC and CSOs with important voter education messages. The "Elections and You" success story features Korta Togba, of the New Liberia Media Initiative, explaining how IFES' support enabled messages about the importance of peaceful elections to be disseminated throughout Liberia.
Naomi Harris, president of the National Union of Organizations of the Disabled, explains why persons with disabilities should register to vote and be a part of the electoral process in "Encouraging Persons with Disabilities to Register and Vote," noting, "It is your right to choose who you want to lead this country."
In "Rumor Mongering Can Damage Liberia!" NEC Communications Director Henry Flomo explains how rumor mongering damages the electoral process by spreading false information.
Below is just a snapshot of the multimedia products that the IFES Liberia team and the NEC have produced to ensure a comprehensive voter outreach campaign that informs all Liberians about the electoral process.