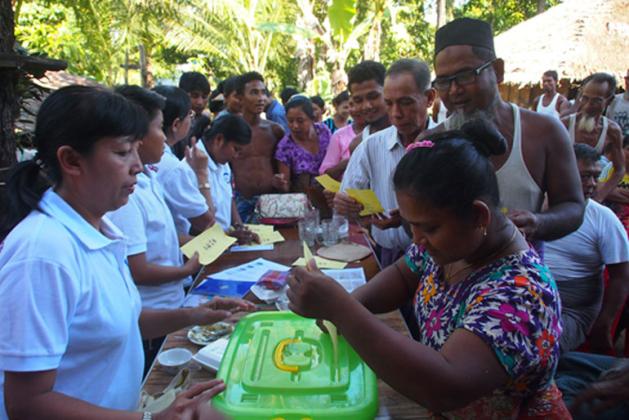 She Leads: Mobilizing Voters for the Myanmar 2015 General Elections
By Katie Ryan, IFES Senior Training and Gender Adviser
In Wun Kite village in Okkan township there is a buzz of excitement as villagers flock around the mock ballot box, learning about valid and invalid ballots and having a chance to practice casting their vote. This voter education event has been organized by Khin San Wai, the Chair of the Myanmar Independent Living Initiative (MILI) office in Okkan, with the support of a team of her fellow Yangon participants from the International Foundation for Electoral Systems (IFES) supported She Leads program in Myanmar.
She Leads participant, Sandar Lwin explains to women in Thit Khaung Gyi how to fill in a ballot
Khin San Wai is one of over 500 women that are taking part in the She Leads program, implemented by IFES' local partner, Yaung Chi Thit in 17 locations across 14 states and regions. The program has been designed to help increase women's participation in political and electoral processes and to equip them with the necessary skills and confidence to take on leadership roles within their communities. Putting into practice what they have learned is a key focus of the program and participants have been encouraged to find creative ways to work together to encourage voters to make sure their names are on the voter list and to raise awareness of the 2015 general elections and the voting process.
May Thandar Naing a She Leads facilitator carries out voter education at the South Dagon mobile health clinic
Participants have really taken this to heart. In the city of Kalay in Sagaing region, for example, participants of the program carried out voter education in a hospital for over 100 doctors, nurses and patients. This was so successful that the team was asked to carry out similar voter education at mobile health clinics for marginalized communities in the suburbs of Yangon.
Khin San Wai and her fellow She Leads participants are making a valuable contribution to the election and democratic process in Myanmar. As U Min Aung Bwat Kone, Chairman of the ward/village tract sub-commission in Okkan township says:
"These events are very important. They are open to everyone and they are impartial. This is the first time any CSO [civil society organization] has been here to carry out voter education. Our citizens can only vote once in five years, so it is crucial that they know how to vote and make an informed choice. I am very happy that women are taking a lead on this. Because the information relates to them, the men are listening."
Inclusion of marginalized groups is integral to the program and there has been active participation of Muslim women, ethnic minorities and women with disabilities. Khin San Wai has been raising awareness about the election with persons with disabilities in her region. She feels strongly about this saying: "It is really important that persons with disabilities know they have a right and a responsibility to vote."
Khin San Wai (center) talking to Yaung Chi Thit Director, Khin Hla (left) at one of the She Leads voter education events in Okkan township
The program has delivered some impressive results. Khin Hla Director of Yaung Chi Thit explains:
"We have trained over 500 women, but the actual impact of the program is in the thousands. The participants have developed the knowledge, skills and most importantly self-confidence to organize and carry out voter education for hundreds of people in their local communities. Not only that, six of our participants have been so motivated they are standing as candidates in this election and others have said they want to stand in the next election in 2020."
These achievements are even greater when considering that many of these women have never spoken in public before and their engagement in previous elections has been minimal.
At the end of a long day carrying out voter education Khin San Wai proudly says: "In the last election, I just did what I was told. Now, I am dealing with local authorities, organizing events and speaking in public. I feel so much more confident."