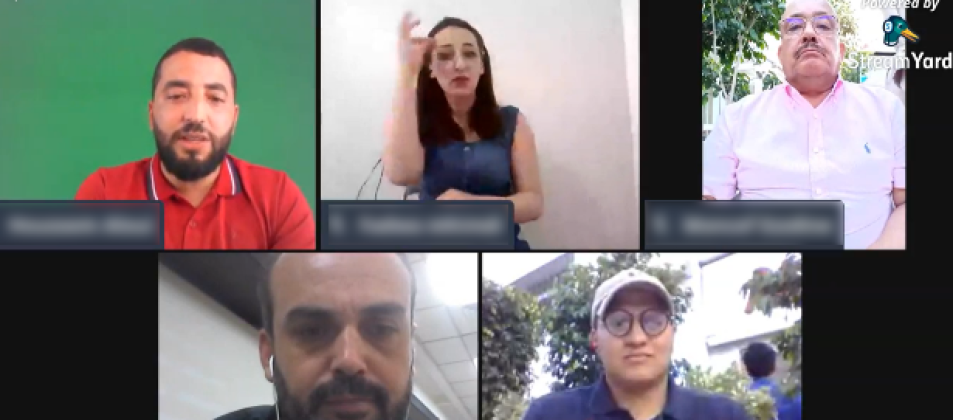 Strengthening Political Inclusion of Deaf Tunisians During COVID-19
The World Federation of the Deaf estimates that there are 70 million people with auditory disabilities worldwide who use more than 300 different sign languages. Deaf communities have been historically excluded from decision-making processes, including elections, and the COVID-19 pandemic has increased these existing inequalities. Deaf communities are further marginalized from public life because they do not have access to educational opportunities, which results in low literacy, and in the COVID-19 context, information on the pandemic is often not available in sign language. The increased use of protective face masks as a result of COVID-19 compounds these communication barriers because masks block visual cues — including facial expressions, lip-reading and emotions — all of which are critical for Deaf and hard-of-hearing people to communicate.
In Tunisia, the International Foundation for Electoral Systems (IFES) has been actively innovating and adapting its programming to ensure inclusion of Deaf communities in political life during the COVID-19 pandemic. In April 2020, IFES developed a video in Tunisian Sign Language to raise awareness about the pandemic with Deaf communities. The Ministry of Social Affairs posted the video to its Facebook page, where it has since received more than 30,000 views and 500 shares. In May 2020, IFES produced a second video in Tunisian Sign Language to encourage people who are Deaf or hard-of-hearing to follow health guidelines. Both videos feature Deaf Tunisians as actors who are members of IFES' Electoral Sign Language Lexicon, "My Sign, My Voice," working group.
Beginning in June 2020, IFES organized a series of webinars for Deaf Tunisians as part of the "My Sign, My Voice" project. The webinars provide a platform for members of the Deaf community to share how their political participation has been impacted by COVID-19, and to discuss topics related to the daily social and economic issues they face as well as broader civic issues. The first webinar, which featured advocates who are Deaf or hard-of-hearing, focused on the social and economic impacts of COVID-19 on Deaf Tunisians. The second webinar, which brought together prominent members of the media and the Deaf community, highlighted the lack of representation of Deaf Tunisians in the media and strategies for increasing their visibility. Recommendations included raising awareness with the media by providing examples of other media outlets that have engaged with Deaf people. Media representatives also encouraged Deaf people to approach mainstream media outlets to request speaking slots and to create their own YouTube or Facebook live channels to share news. The third webinar, which featured a Deaf moderator for the first time, addressed barriers to and opportunities for civic engagement of Deaf Tunisians during the COVID-19 pandemic. Recommendations from the webinars are being used to inform IFES' future programmatic approaches.
To ensure the webinars were inclusive and accessible for all participants, IFES provided simultaneous interpretation in Tunisian Sign Language and the Tunisian dialect of Arabic. IFES also organized briefings with all speakers and moderators, including Deaf and hard-of-hearing presenters, ahead of each webinar to explain how the event would be organized, the topics that would be covered and their respective roles in the webinars. Moderators were also encouraged to speak slowly and clearly to provide sufficient time for interpretation. 

To encourage meaningful participation of Deaf and hard-of-hearing people in public life during the COVID-19 pandemic, IFES also created a series of short animated videos and a comic book as part of the Electoral Sign Language Lexicon, "My Sign, My Voice," project. The "Voice of the City" (Sout Al Madina) animated video series includes interpretation in Tunisian Sign Language and features seven Deaf and hard-of-hearing people from diverse backgrounds as characters. The animated videos address issues related to democracy, local governance, rights, duties, elections, advocacy and citizenship. In July 2020, IFES started publishing the videos on Facebook and YouTube. The videos have also been integrated into IFES' civic education curriculum and shared with nearly 200 Deaf and hard-of-hearing persons representing different regions during civic education sessions organized by IFES between August and September 2020.
These activities build upon Tunisia's Electoral Sign Language Lexicon, "My Sign, My Voice," mobile application (available on Android and iOS) and website, which IFES developed in partnership with disabled people's organizations with support from the United States Agency for International Development ahead of the 2019 Tunisian elections. IFES' Electoral Sign Language Lexicon methodology, which was recognized by the Zero Project as an innovative practice in 2019, captures and shares critical electoral concepts that can be used by Deaf communities around the world to discuss elections and politics. The Zero Project, an initiative of the Austrian Essl Foundation, provides a platform for sharing innovative solutions to barriers faced by persons with disabilities around the world.
Published on November 6, 2020.