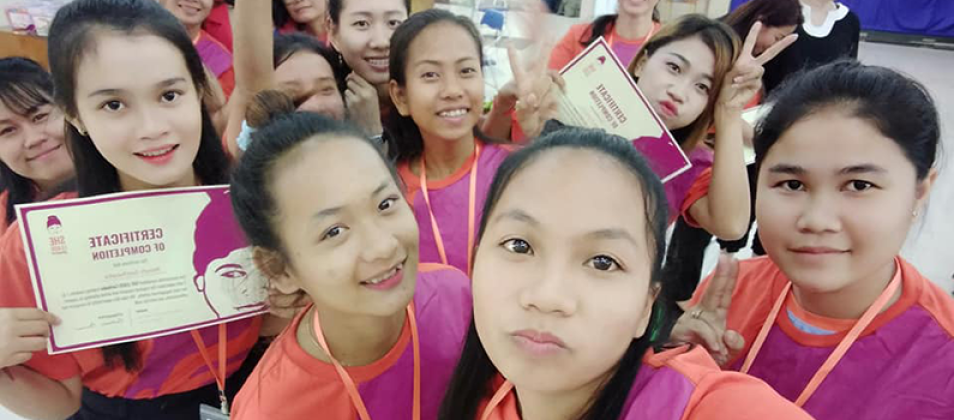 Tapping Women's Leadership Potential for Civic Engagement
In early March, the International Foundation for Electoral Systems (IFES) and its local partner VBNK concluded a series of "She Leads" workshops in Cambodia. "She Leads Cambodia" provides training to rural and marginalized women who aspire to become more involved in their communities. The program targets young women with untapped leadership potential who have few opportunities to access leadership development programs but aspire to be more active in their communities. Participants were drawn from 14 provinces and participated in workshops in Svay Rieng, Prey Veng, Siem Reap and Pursat.
"She Leads Cambodia" training workshops are highly interactive and adaptive. Participants engage in team and group activities, role-playing, games, individual assignments and reflection. The curriculum covers a range of skills, from stakeholder outreach, networking, and activity planning to building rapport, public speaking, persuasion and negotiation. Participants learn techniques to help them to think positively and deal with difficult people and stressful situations. They also explore sources of power, power dynamics and how to exert influence.
"I'm so happy. This is exactly the kind of training I needed to show people that I'm capable. It's been very useful and I think I've become a confident person who can make my own decisions and overcome fear. Thanks to USAID, IFES and VBNK for this program." – Siem Reap workshop participant
Workshop participants are grouped according to their self-identified areas of interest spanning access to education, the environment, addiction treatment and the rights of persons with disabilities. Inclusion themes are integrated throughout the curriculum, with women with disabilities comprising 25 percent of the program's participants.

In Cambodia, the curriculum involves two rounds of training. Between workshops, participants are expected to collect information about their issue, reach out to stakeholders and prepare a preliminary action plan for civic engagement. During the second phase of training, participants receive feedback on their plans through peer and expert review. Upon completing the training, participants receive graduation certificates and collateral materials that identify them as "She Leads Cambodia" alumnae. Awards are also given recognizing the most improved and positive participants, and best team player. After the workshop, participants return to their communities to implement their plans.
Women from 18 provinces participated in a series of focus groups to inform curriculum development. They discussed the obstacles they face when attempting to engage with their communities and exercise leadership. Deficits in knowledge and confidence coalesced around communication and interpersonal skills, issue awareness and engagement and mobilization strategies.
"In the first workshop, I couldn't even speak when the facilitator asked me. Now, I'm more confident. I know if I'm committed, I can do it. You just need to change your mindset." – Pursat workshop participant
During the focus group participants also brainstormed a mobile app to support the program. The "She Leads" Cambodia app was subsequently developed as a game to test and reinforce learning. Each day, participants receive a daily call during which they are asked a question linked to the curriculum. Participants can post their scores to the "She Leads Cambodia" Facebook page. Through the Facebook group, participants also document their civic engagement activities, while offering encouragement and support to each other.
"She Leads Cambodia" is supported by the United States Agency for International Development through the Consortium for Elections and Political Process Strengthening (CEPPS). "She Leads" has trained over 2,700 women in four countries in Southeast Asia and continues to expand. Programs are tailored to each country's cultural and contextual and reflect lessons drawn from successful "She Leads" alumnae who continue to advance women's leadership and participation.
Established in 1995, CEPPS pools the expertise of three premier international organizations dedicated to democratic development: IFES, the International Republican Institute and the National Democratic Institute. CEPPS has a 20-year track record of collaboration and leadership in democracy, human rights and governance support, learning from experience, and adopting new approaches and tools based on the ever-evolving technological landscape.'