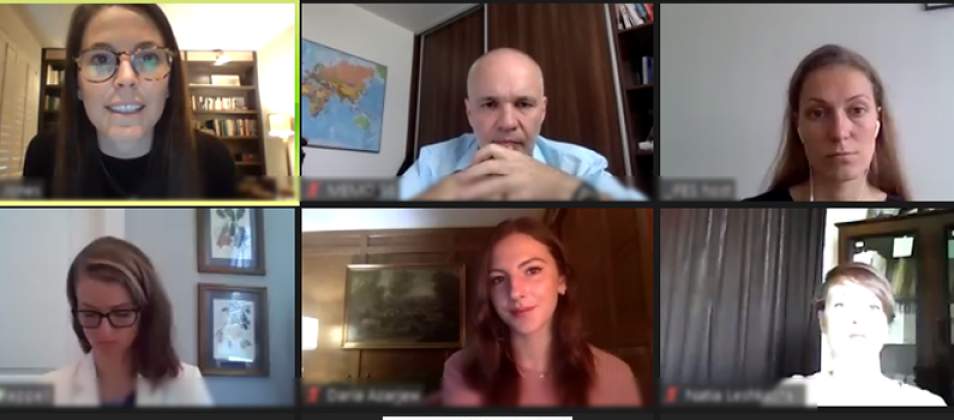 Webinar: Preserving Electoral Integrity During an Infodemic
On May 20, 2020, the International Foundation for Electoral Systems (IFES) launched its webinar series on administering elections in Europe during a pandemic and its impact on democratic processes. The series is designed to complement IFES guidance on holding elections during the ongoing pandemic and how election administrators can best prepare. This series is hosted by IFES' Regional Europe Office in partnership with election management bodies (EMBs) and experts throughout Europe and Eurasia.
The second installment focused on "Preserving Electoral Integrity During an Infodemic" and IFES' recent briefing paper on the topic – the third in the COVID-19 Briefing Series. This session gathered 98 participants from over 15 countries and featured simultaneous interpretation into Armenian, English, Georgian, Macedonian, Russian and South Slavic languages.

During what the World Health Organization has termed an "infodemic," false or misrepresented information about COVID-19 is being shared across both traditional and social media. This webinar focused on how the disinformation landscape is rapidly evolving and how various stakeholders, especially EMBs, civil society organizations and media, can address the misinformation, disinformation and hate speech related to the pandemic and impacts on electoral processes.
The webinar began with an overview of IFES' recent briefing paper delivered by Lisa Reppell, IFES' global social media and disinformation specialist. As Reppell pointed out, the paper's main objective was to address information integrity, misinformation, disinformation and their implications for electoral processes globally. The paper examines four challenges of information integrity, mainly the campaign period, electoral administration and operations, the post-electoral period and democratic integrity. Reppell touched upon how various stakeholders can prepare and the relevant tools available to counter misinformation, disinformation and hate speech.
Lukas Andriukaitis, associate director from the Atlantic Council's Digital Forensic Research Lab, discussed foreign influence tactics related to the infodemic and the spread of disinformation during the pandemic. Andriukaitis introduced the Digital Forensic Research Lab's work to counter disinformation from foreign actors on social media and the tools they use in their analysis. Andriukaitis' presentation also illustrated examples of Russia's, Iran's and China's attempts to spread misleading news online, as they are considered the most prominent vectors of false information during the pandemic.
The event also featured Stewart Jones, associate and chief of staff to the Cybersecurity and Data Privacy Practice from the Brunswick Group, who outlined how electoral stakeholders and individuals can build resilience and combat disinformation within the electoral process, especially when elections have been either postponed or rescheduled. Jones stressed that effective communication should be the primary response of electoral stakeholders in efforts to combat misinformation, disinformation and hate speech. Moreover, strategic communication planning is critical, as it prepares electoral stakeholders to swiftly and effectively combat disinformation and hate speech when they occur. The four goals for election officials to keep in mind when facing these scenarios are understanding their audience; building resilience in advance; establishing the response process; and role-playing scenarios. Jones also underscored the importance of election officials creating a culture of awareness and establishing themselves as trusted sources of information.
The concluding speaker, Rastò Kužel, managing director of Memo 98, discussed how electoral stakeholders can set up effective monitoring mechanisms for social media and the tools available to them. Before Kužel dived into specific examples of online tools, he explained the various stages of monitoring, such as defining which platforms to monitor and what actors to focus on; scraping and coding the gathered data; quantitatively and qualitatively analyzing the data gathered; and reporting findings.
The event concluded with a dynamic Q&A, which further examined how social media companies are approaching the challenges presented by the infodemic and practical recommendations on how to combat disinformation. The speakers explored how platforms are defining electoral interference in their content moderation practices and whether it is being defined from an inclusive and global perspective. The discussion also dived into how the COVID-19 infodemic is used as a new, opportunistic tactic for foreign disinformation campaigns and the value of early warning tools, which could help collect instances of disinformation from the outset, enabling a more informed and immediate response.
Stay tuned for the third installment of the webinar series scheduled for July 30, 2020. "Your Voice Is Just a Click Away!" will be dedicated to promoting youth civic engagement online in the context of the pandemic and exploring how youth can be leaders during this unprecedented era.
Published on July 15, 2020.