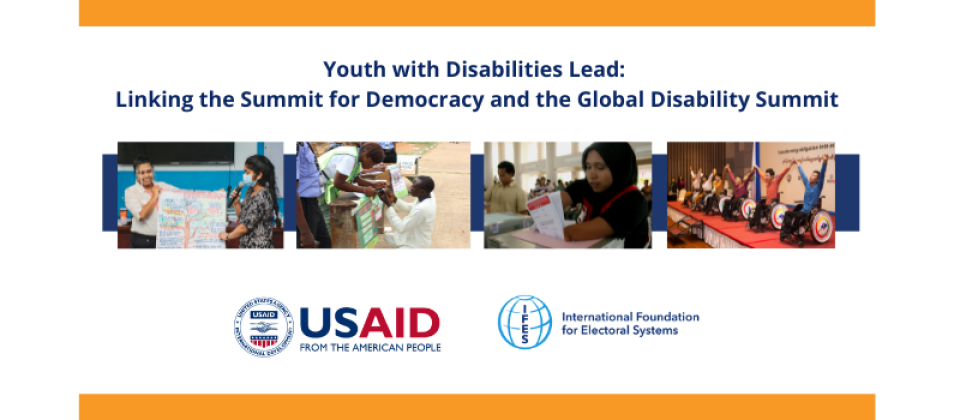 Youth with Disabilities Lead: Linking the Summit for Democracy and the Global Disability Summit
Watch the full event, with English subtitles!
Written by Kailee Smart, IFES Inclusion Program Coordinator
As part of the 2022 Global Disability Summit, the U.S. Agency for International Development (USAID) and the International Foundation for Electoral Systems (IFES) co-hosted a discussion with young leaders with disabilities from around the world. The event, emceed by a young Ukrainian disability rights leader, Iryna, featured two panels and focused on ways the Global Disability Summit and the 2022 Disability-Inclusive Democracy Year of Action, which was announced at the U.S. government's December 2021 Summit for Democracy, can be leveraged to enhance political access of young people with disabilities.
The first panel, moderated by IFES Senior Global Inclusion Advisor, Virginia Atkinson, featured Katherine Guernsey, USAID Agency Disability Coordinator and Michael McCabe, USAID Agency Youth Coordinator. Kathy noted that USAID's commitments cover a range of topics such as access to political life, disability-inclusive climate action, humanitarian assistance and peacebuilding. In parallel with its Global Disability Summit commitments, USAID is currently in the process of updating both their disability and youth policies. Michael noted that, in comparison to the previous policy, the new youth policy places a greater focus on young people as partners, rather than as beneficiaries. He stated the new policy will also "recognize that youth are not homogeneous" and that young people with disabilities would be included in both policies. Virginia announced IFES' Global Disability Summit commitments, one of which is focused on enhancing access to civic and political life for young people with disabilities. More details on this, and IFES' other Global Disability Summit commitments, can be found here.
The second panel, moderated by Neetha Tangirala, USAID Senior Advisor for Youth, Civic Education and Activism, featured Geenie Gunasekera, an alumna of IFES' Engaging a New Generation for Accessible Governance and Elections (ENGAGE) leadership program and a member of the Disability Inclusive Elections in Sri Lanka working group, and Reuben Mpatiany, Indigenous youth advocate, founder of the Narok Albinism Association in Kenya, and member of the International Disability Alliance's Global Caucus of Youth with Disabilities. While nearly half of the world's population is aged 25 or younger, young people continue to face significant barriers to political participation, and young people with disabilities face additional legal, physical, attitudinal, and informational challenges. Young leaders such as Geenie and Reuben understand these challenges and provided concrete ways of overcoming them. Geenie noted that among other barriers, "social stigma and non-recognition of inherent and individual dignity" have been factors that have hindered her participation in political life. She stated there should be increased access to democracy and governance programming for young persons with disabilities to understand their rights and responsibilities and develop the skills to be leaders. Reuben noted that there is a general lack of support from the international donor community to provide youth-led initiatives with core funds and resources. He suggested that young people with disabilities receive equal access to resources to meaningfully engage as well as the financial support to fund their own youth-led initiatives.
The event reinforced how young people with disabilities can contribute to critical decision-making processes and be positive changemakers in their communities and around the globe. Young people can hold their governments accountable for upholding the commitments made at both summits. As Iryna noted, "Regardless of the challenges, young people with disabilities are ready to engage. They are ready to help the government uphold the commitments made both within the Summit for Democracy and the Global Disability Summit." Young leaders can also engage with their governments through the Disability-Inclusive Year of Action by contacting their local embassy. As Kathy encouraged attendees, "Consider what are the common challenges and innovative approaches to promoting democracy that is truly inclusive of persons with disabilities. We want your ideas to feed into that Action Plan to ensure that the Action Plan is responsive, also to the concerns of youth with disabilities."
 Published April 29, 2022.