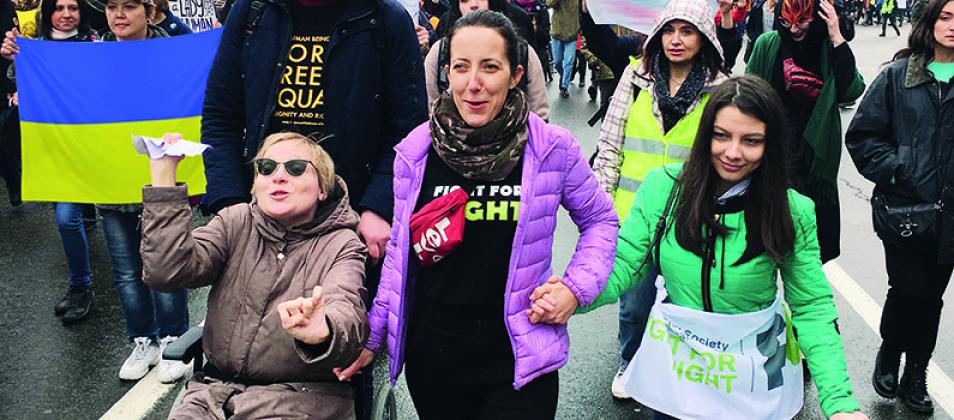 Intersectionality Assessment of Political and Electoral Participation in Ukraine
Women, people with disabilities, internally displaced persons and the LGBTQ community often face discrimination and political exclusion. People who identify with more than one of these identities, such as women with disabilities or young people who are displaced, have unique experiences that are often not considered in the design and implementation of electoral and political activities. Intersectionality, or the interconnected nature of different social identities, is fundamentally about power and has a profound impact on understanding the dynamics of political inclusion and exclusion. To address barriers to meaningful participation and make their voices heard, it is crucial to identify, assess and develop contextualized solutions.
In Ukraine, a vast number of dedicated civil society organizations (CSOs) and activists work diligently to push for equality and access to political life. However, obstacles to full and equal political participation remain across Ukraine. These obstacles are even more significant for people with multiple social identities, who face unique experiences of discrimination. CSOs representing different identity groups are generally not yet coordinating or building coalitions to advocate for joint causes, and the experiences of those facing compounding discrimination are often not considered by political decision-makers. A new assessment from the International Foundation for Electoral Systems (IFES) identifies vulnerabilities that impact the political participation of these groups in Ukraine and opportunities for coalition-building.
The Intersectionality Assessment of Political and Electoral Participation in Ukraine seeks to make conversations about electoral and political rights more deliberately inclusive of all Ukrainians. It provides targeted recommendations for decision-makers at all levels of government, national CSOs and international organizations. The assessment is available in English and Ukrainian.
This report was made possible with support from Global Affairs Canada. 
Learn more about IFES' programs in Ukraine and work on participation and inclusion.
Published on July 31, 2020.