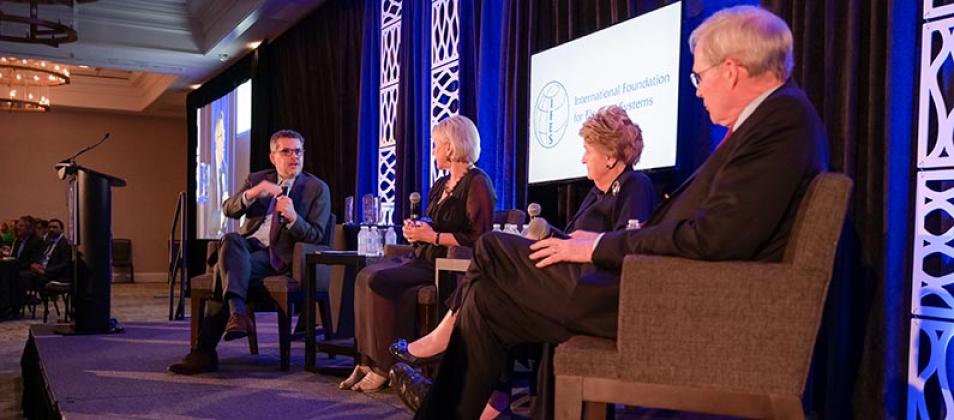 IFES Democracy Awards 2021
The International Foundation for Electoral Systems' (IFES) Democracy Awards honor inspirational leaders with an unwavering commitment to building democracies that deliver for all. Each ceremony, IFES presents the Democracy Award to three individuals: a Democrat, a Republican and a member of the international community.
The IFES Democracy Awards recognize those who embody the IFES vision of democracy for a better future, which we advance through innovative programming to:
"The work of building and sustaining democracies requires persistence and it requires cooperation. Since its founding over 30 years ago, IFES has brought both of these attributes to the fight for freedom."
– 2019 Democracy Awardee Madeleine K. Albright
The IFES Democracy Awards 2021 will be held on Tuesday, October 26, in Washington, D.C. This premier event will include members of Congress, the Biden Administration and other leaders, experts and advocates for democracy, human rights and governance. It will include a reception, dinner and awards ceremony.
For more information, please contact IFES Vice President for Global Growth and Outreach Catherine Barnes (cbarnes@ifes.org).
"I am grateful to receive this Democracy Award from IFES, an organization that helps to build … hope and fight the doomsday feeling with a policy for faith in the future."
– 2019 Democracy Awardee Margot Wallström
Past Democracy Award Recipients
2019
Former Swedish Minister for Foreign Affairs Margot Wallström
Former United States Secretary of State Madeleine K. Albright (D)
Former U.S. National Security Adviser Stephen J. Hadley (R)
2018

Hon. Ellen Johnson Sirleaf, Liberia
Hon. Christopher Coons (D-Del.)
Hon. Mark Green (R)

2017

H.E. Luis Almagro, Uruguay
Hon. David Price (D-N.C.)
Former IFES Board of Directors Vice Chair Judy Black (R)

2016

Nay Lin Soe, Myanmar
Hon. Sheila Jackson Lee (D-Tex.)
Hon. John Barrasso (R-Wyo.)

2015

Professor Attahiru Jega, Nigeria
Hon. Nancy Pelosi (D-Calif.)
Hon. Ed Royce (R-Calif.)

2014

Maria Corina Machado, Venezuela
Hon. Steny Hoyer (D-Md.)
Hon. Jerry Moran (R-Kan.)

2013

Dr. Leonardo Valdés Zurita, Mexico
Hon. Richard J. Durbin (D-Ill.)
Hon. Kay Granger (R-Tex.)

2012

Maimuna Mwidau, Kenya
Hon. David Dreier (R-Calif.)
Hon. Nita Lowey (D-N.Y.)

2011

Judge Johann Kriegler, South Africa
Hon. Patrick Leahy (D-Vt.)
Hon. Ileana Ros-Lehtinen (R-Fla.)

2010

Ziad Baroud, Lebanon
Hon. M. Peter McPherson, USAID
Hon. David Obey (D-Wis.)

Recipients, 1996-2007

Hon. Lee H. Hamilton
H.E. José Miguel Insulza, Chile, OAS
Hon. James Inhofe (R-Okla.)
H.E. Leonid Kuchma, Ukraine
Hon. Tom Lantos (D-Calif.)
Hon. Richard G. Lugar (R-Ind.)
Rev. Msgr. Agripino Núñez Collado, Dominican Republic
H.E. Ronald Reagan
Richard Soudriette, IFES