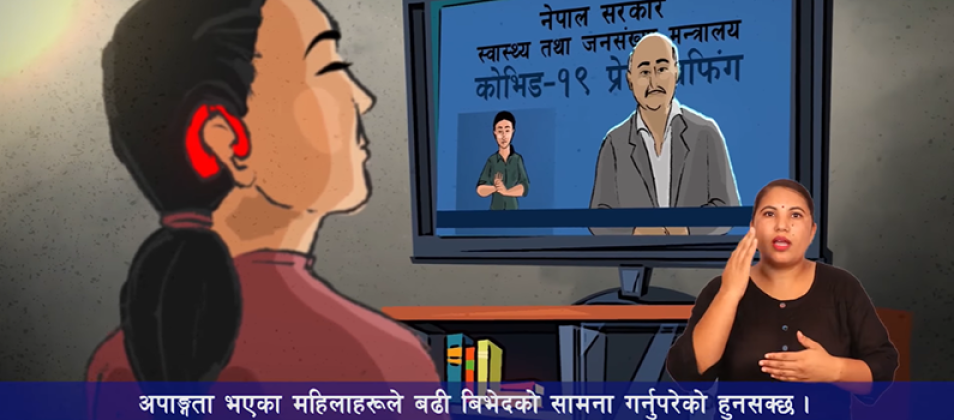 Nepali Youth and Women with Disabilities Lead During Pandemic
The COVID-19 pandemic has created new challenges and exacerbated existing barriers to political participation for many people. The compounded health risks and government-imposed restrictions heighten existing inequalities that marginalized communities face, making it critical to advocate for their concerns and inclusion in decision-making processes. In Nepal, the International Foundation for Electoral Systems' (IFES) local partners, the Nepal Disabled Women Association (NDWA) and the Association of Youth Organizations Nepal (AYON), are working to ensure that the priorities and rights of women with disabilities and young people are included in the government's response to the pandemic and to spread awareness of health and safety measures in their communities and on social media.
Calling on the Nepali government to promote inclusivity, accessibility and engagement in its pandemic response, both AYON and NDWA organized webinars and virtual discussions with program stakeholders to develop their own recommendations for the country's response to COVID-19. NDWA's Recommendations for an Inclusive, Accessible COVID-19 Response, which advocates for accessible formatting of public information on COVID-19 and the inclusion of women with disabilities in disaster risk management committees, was presented to the Women and Social Affairs Committee on October 2, 2020. Following NDWA's presentation, the committee issued a directive to the government to consider the recommendations.
"To ensure the needs of women with disabilities are met and their rights protected, we need to continuously engage, support and advocate with elected representatives and government agencies for an inclusive COVID-19 response." – Excerpt from an NDWA video

AYON has been working with the federal government on COVID-19 since they were named a member of the federal government's COVID-19 Response Committee and selected as a member of a provincial government committee to monitor and report on the status of quarantine shelters in June 2020. Using these connections, AYON has shared a series of recommendations for the local, provincial and federal governments to consider young people's rights in their COVID-19 policies in education, the economy and health services. AYON also advocated to ensure youth representation on government COVID-19 committees at all levels of government and to address rising gender-based violence during the pandemic. To kick off their campaign, they published their advocacy points in the Annapurna Post, a national newspaper.



Advocates from AYON and NDWA have also spread awareness about the pandemic and its effects through social media. Through infographics and an animated video posted to Facebook, AYON shared tips to prevent the spread of the virus and advice for safe youth engagement in political processes during the pandemic. AYON is also working to combat online misinformation, disinformation and hate speech, facilitating a series of webinars with young people and collaborating with Nepali celebrities to share video messages through their Facebook page. The spread of misinformation, disinformation and hate speech is of particular concern during the pandemic, as false or misleading information about COVID-19's impact and preventative measures poses an enormous public health risk. NDWA shared infographics and videos on Facebook on how the pandemic has affected women with disabilities and how they can continue to engage with elected officials.



These advocacy activities empowered IFES' program stakeholders to engage directly with government representatives to provide their perspectives on how COVID-19 is impacting marginalized communities and their priorities for the government's response. Their engagement provided government officials with recommendations to consider for more inclusive approaches as the pandemic evolves.
These activities are an extension of AYON's "Youth for Good Governance" and NDWA's "Power to Persuade" programs, which, with the support of IFES, empower participants to actively engage in democratic processes, develop leadership skills and advocate for the priorities of youth and women with disabilities respectively.
To learn more about their advocacy work, follow AYON and NDWA on Facebook.
Published on February 9, 2021.