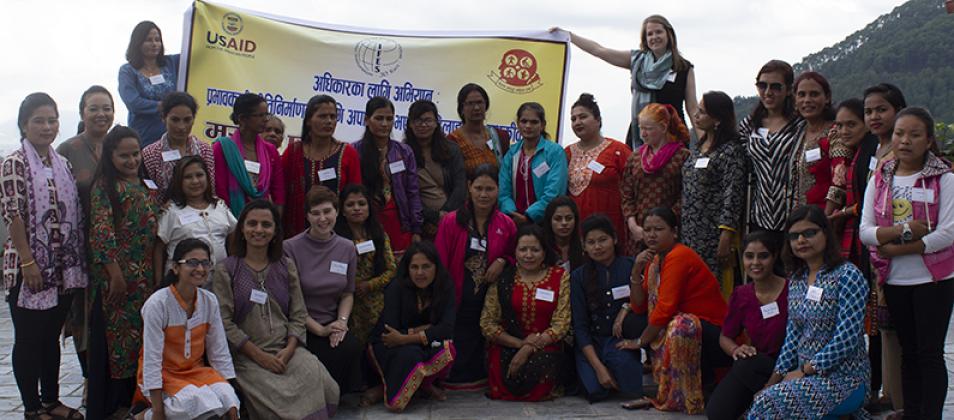 Nepali Women with Disabilities Build Advocacy Skills to Engage Government Officials
The International Foundation for Electoral Systems (IFES) and Nepal Disabled Women Association (NDWA) trained women with disabilities as part of a "Power to Persuade: Empowering Women with Disabilities to Influence Public Policy" training from August 27-30, 2018, in Godavari municipality in Lalitpur, Nepal. The training, led by IFES Senior Inclusion Officer Rebecca Aaberg, NDWA Chairperson Nirmala Dhital, and NDWA Executive Director Meena Paudel, was made possible through the support of the United States Agency for International Development.
Twenty-five women with diverse disabilities from Dhading, Gorkha, Kanchanpur, Kavrepalanchok, and Morang took part in the training, which included developing a unified policy platform and practicing advocacy skills for communicating with government stakeholders. The platform, which reflected the significant barriers that Nepali women with disabilities face while participating in public life, focused on meaningful participation, employment opportunities, inclusive education, and access to justice.
Participants took part in role-play exercises and other interactive lessons to build skills for discussing the policy platform with government officials. They also created advocacy plans that will be implemented in each district to promote the policy platform. In the coming weeks, district focal points will lead additional trainings in each of the five districts, sharing lessons learned on advocacy. District groups will work toward the implementation of policies identified by NDWA participants by completing their advocacy activities with various stakeholders, including elected representatives and government officials.
"When I was a child, I even used to hide my disability due to the constant stares and questions asked by people. From this training, I have learned that advocacy done through combined efforts of people or organizations will help in achieving desired goals." – Woman with a physical disability from Kavrepalanchok district
To view a photo gallery of the training on Flickr, please click the image below.
Women with disabilities from different districts across Nepal work together to discuss policy priorities at the Power to Persuade training.