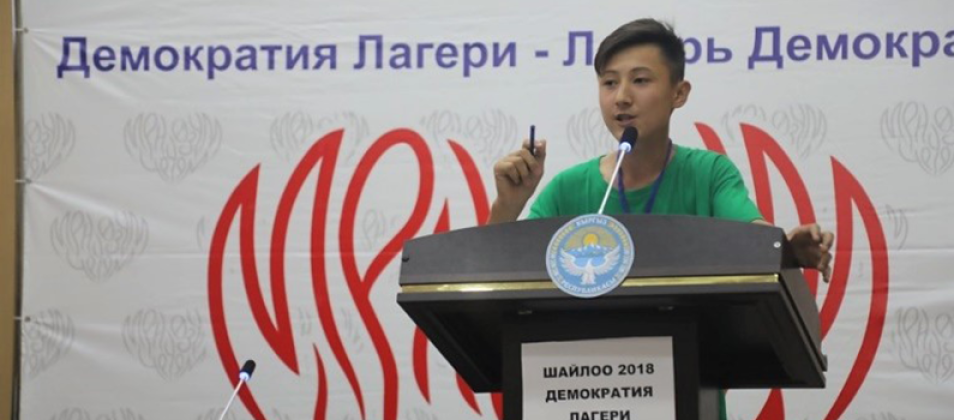 20 Years of Democracy Camps: Building a Legacy of Youth Empowerment and Engagement in Kyrgyzstan
by Daria Azarjew*
Kyrgyzstan is a burgeoning democracy full of young people. Over 45 percent of the population is below age 24, and over 30 percent is 14 or younger. Despite boasting a promising future, remnants of the Soviet-style education system — where critical thinking and individual analysis are discouraged — serve as an enduring impediment to democratic progress in the country. Now a 20-year legacy, the International Foundation for Electoral Systems' (IFES) Democracy Camps help remove the fetters of the past by empowering young people with critical skills and confidence to become the next generation of leaders.
Since 1999, Camp applications have steadily increased. While not everyone is able to attend the Democracy Camps, those who do participate return home transformed and inspired to enrich their communities with the salient ideas that constitute an engaged democratic society. As Kyrgyzstan continues to overcome various entrenched challenges, its path forward will be sowed by these young citizens armed with confidence, passion and ambition to lead their country into a better tomorrow.
We asked Democracy Camp participants how the Camps have affected their lives. Here are some of their answers.
"How has Democracy Camp affected my life? The Camp days were extremely difficult and unusual. The program was rich, there was a lot of learning, and most importantly, the training staff treated the participants as adults. The participants built the (Camp) state, elected a president, the Parliament developed a Constitution and the media covered everything that was happening.
"Upon our return home, we were able to hold official school elections and implement various school projects. Then there was a Democracy Camp Alumni Forum, where the most active alumni from all regions gathered, and we saw the enormous scale of the Camps' organization and found many friends. IFES often called us to follow up and asked what we are doing, what projects we are implementing, and invited us to various events. I felt cared for. Furthermore, in my student years I managed to participate in the Camp as a volunteer, and then as a trainer. When IFES offered me a position to join its field team and I was given the opportunity to participate in the process of preparing and implementing the Camps' curricula, I was probably the happiest person." – Aichurek Usupbaeva, 2002 South Democracy Camp
"I was introduced to Democracy Camp at the age of 16-17, when I was young and hungry for new experiences. This was the time when the main goal of our generation was to prove your coolness and be the best and most attractive among the girls by demonstrating your power in street fights. In the midst of this kind of "kid chaos" I was informed about this Camp and without any hesitation decided to test my destiny and send in my application. You accepted, I was chosen, since then my life has changed. Before the Camp I was Azik, after the Camp I returned as an adult, Aziret Turatbekov. I found other ways to prove my coolness. I have unlocked the hidden skills that will bring me fame in the future. I say thank you to all the staff and organizers of this Camp. Thank you for the inspiration, for the fresh views towards the world. Let the universe know about Democracy Camp!" – Aziret Turatbekov, 2012 Democracy Camp
"I became a confident, goal-seeking person. I learned how to work in a team. I have made new friends, and they are wonderful friends. I learned about the different forms of government, the administrative and territorial structure of Kyrgyzstan, and also about elections. Now I know how to set a goal and pursue it. I created and implemented a project for the first time in my life. This means a lot to me. Now I can transform my project into reality. Oh yes! I was on stage for the first time in my life." – Tynybek kyzy Nurkyz, 2014 South Democracy Camp
"Democracy Camp had an enormous impact on my life, because I discovered myself through art and painting. After the Camp, I decided to start over from the beginning and become a new, dedicated person with a dream and clear goals, who will achieve everything he wants." – Akimov Joomart, 2015 South Democracy Camp
"At the Camp, I became the person that I've always wanted to become. I have developed the qualities inherent in a successful person. I worked as part of my team and made friends with many people. I became a deputy and took part in elections. Performed in the theater, created ideas and became self-confident. I now know what I want in the future. I know what it means to live in a democracy, to be a part of a team and the state. I became a leader." – Alina Umarova, 2017 North Democracy Camp
"The Camp was able to fill the void in my soul; I now feel like a full-fledged person. I realized that for me there is nothing impossible, I just need to try and life will smile to me. I realized the limitations that we set ourselves. I decided to change my lifestyle and myself. Currently, I am preparing for the implementation of many projects; I launched my own "Birimdik" volunteer club in Kyzyl-Kiya city. Last week we organized a chess tournament to promote the familiarization of chess in my motherland because it helps you make moves with a strong purpose and guide your thought process in the right direction." – Alambek Gulamidinov, 2017 South Democracy Camp
"I wondered how can a person be changed within just 10 days? Media Democracy Camp is an incredible Camp that gives young people the chance to discover our own unique opportunities and conquer new horizons as it opens the way forward.
"I tested myself in the role of an actor, politician and journalist during the Media Democracy Camp. From the first days of the Camp, we plunged into a new world for us where we felt free, talked openly about everything and tried to express our opinion. We had election campaigns and debates. The cool thing is that the Camp organizers were serious about this election. They wanted us to learn a lot and invited the Central Election Commission (CEC) with real automatic scanning ballot boxes. It was inspiring to see how an alumnus of the 2009 Democracy Camp, Urmat Kanybekov presented the work of the [CEC] department he works for. His example shows that we can achieve our goals and all our dreams can come true. I want to be useful to the community, and Media Democracy Camp inspired me to do that. I will actively use my knowledge for community development." – Nurbolot Monoldorov, 2017 North Media Democracy Camp
"The most valuable lesson I learned at the Camp is to decide my own fortune; to always do what I want and decide for myself. Of course, freedom always co-exists with responsibility. Since I was elected president of the Camp, I've learned to bear responsibility not only for my own actions but also my entire Camp community. From this moment on, I knew who I want to be. I have a priceless bundle of acquired knowledge, which I plan to enrich every day and use to accomplish all my dreams bit by bit." – Jumabek uulu Bakhtiyar, 2018 South Democracy Camp
"After the Camp, my life changed dramatically and for the better. I became open, sociable, and unafraid to express my own opinion. I'm not afraid of the public and I'm not afraid to speak to it. I became more literate and smarter. Here I gained new qualities and skills, such as creativity and the ability to think critically. I am grateful for the opportunity to change myself for the better." – Abdyjaparova Aijan, 2018 North Democracy Camp
"I would like to start with the fact that I am a 'strange dreamer,' according to my relatives and classmates, and so I start a success story with this topic. I want to clarify that all my classmates considered me strange, and therefore did not communicate with me. As a result, I haven't had a real friend for 16 years, only competitors whom I thank for enabling me to feel the fear of defeat and the joy of victory.
"Finally, I found friends at the Democracy Camp, to which I fell completely by accident. From the first minute I spent with them, I felt an atmosphere of warmth and friendliness. I found those who were ready to understand me. And in this brief period of time, I acquired not only friends, but also an enormous amount of knowledge about the world.
"In conclusion, I would like to say that this is not the end, but the beginning of our success story, our long journey. And of course, never stop dreaming; do not give up, even if others try to impose their opinions on you; believe in yourself. Go to the goal, try to leave a trace after yourself!" – Saadat Amanbaeva, 2018 South Democracy Camp
Watch the following video about the 2018 Media Democracy Camp, which aimed to educate youth on the importance of civic engagement and media literacy, while developing their leadership skills and promoting ideals of inclusivity and tolerance.
*Daria Azarjew is a program officer for IFES' Europe and Eurasia division.