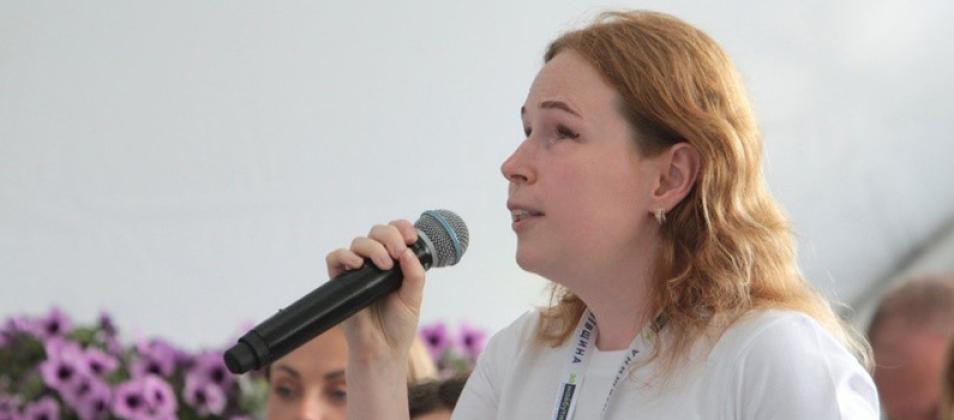 Alumna of Political Leadership School Wins Seat in Ukraine's Local Elections
Leonida Ponomaryova, 28, is a scholar and civic activist with a visual disability. She is also an alumna of the unique Liderka (which translates to "woman leader") School for Political Leadership for Young Women with Disabilities and a newly elected member of the Kyiv Oblast Council.
In 2019, the disabled persons organization Fight for Right, in partnership with the International Foundation for Electoral Systems (IFES) and through the support of Global Affairs Canada, organized a political leadership school for 21 young women with disabilities from across Ukraine, including Leonida. The course was adapted and contextualized from IFES' Engaging a New Generation for Accessible Governance and Elections (ENGAGE) curriculum.
Liderka participants – young women with disabilities who are civic activists, students, freelancers and employees of educational and medical institutions – learned about human rights, discrimination, political participation and leadership, feminism and the role of women with disabilities in decision-making. Participants met with the Ukrainian ombudsman's office and conducted a business dinner with high-ranking Ukrainian officials and representatives of international organizations. School presenters included women leaders from different spheres of Ukrainian life who shared personal stories and provided useful tips for both personal and professional development.
"Increasing the visibility of women with disabilities in decision-making has always been strategically important for us as an organization founded by women with disabilities," said Liderka founders Yulia Sachuk and Iryna Tekuchova. "The idea came to create a platform for exchange of experience and motivation for women, who find themselves at the beginning of or are changing their professional career."
After successfully completing the intensive training program, Leonida and six other young women were selected via an essay competition to receive internships with government agencies and institutions. Leonida interned at the Central Election Commission, where she helped revise national legislation on electoral process accessibility for voters with visual disabilities.
"Interning at the Central Election Commission of Ukraine was a valuable experience and one of the most important steps in my professional path," said Leonida.
She admits she always considered a political career because of her strong civic interest, previous experience and aspiration to make the rights of Ukraine's disability community heard and fulfilled. This intention materialized while participating in the Liderka school, where she had an opportunity to learn from high-level women mentors and grow her confidence and motivation to achieve her political ambitions.
One of those mentors was former member of Parliament Iryna Suslova, who supports including more women with disabilities in Ukrainian political and decision-making positions. Iryna helped motivate Leonida to join a political party – For the Future – and run for office during the 2020 local elections, where she successfully won a seat on the Kyiv Oblast Council.
"I wanted to become part of Ukrainian politics so I can influence and improve lives of people with disabilities," Leonida says. "My motivation is also about eliminating hurtful stereotypes and biases around people with disabilities, that everyone should pity them instead of supporting and treating us like equals."
Published on February 9, 2021.