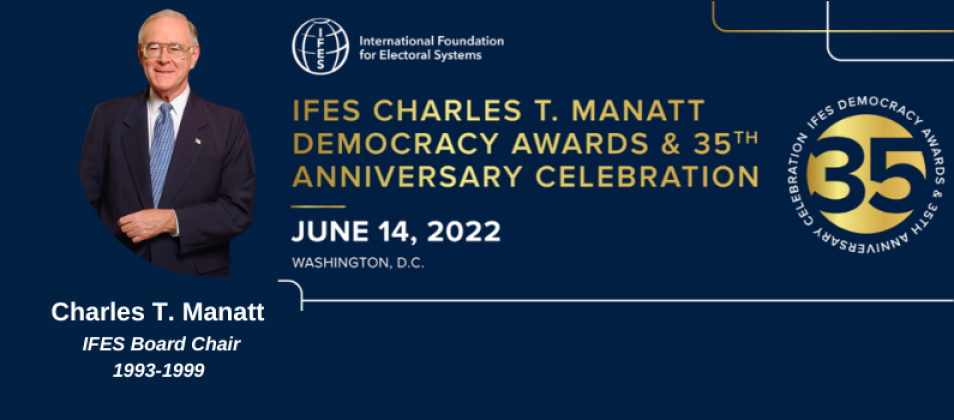 Charles T. Manatt: Champion of Democracy
The International Foundation for Electoral Systems' (IFES) yearly Democracy Award is named in honor of former IFES Board Chair (1993-1999) Charles "Chuck" Manatt. Manatt exercised extensive influence in U.S. politics but is best remembered at IFES for his dedicated, visionary leadership in supporting democracy around the world.
Manatt was "one of the architects of the global democracy movement," observed Bill Sweeney, a past IFES President and CEO. Indeed, Manatt served as an early Vice-Chair of the National Endowment for Democracy (NED) and was the founding chairman of the National Democratic Institute (NDI). As IFES Board Chair, he supported the expansion of IFES programs across the globe. The Dominican Republic had a special place in his heart, and he dedicated himself to strengthening U.S. cooperation with the Dominican Republic.
Manatt is also remembered for his commitment to mentoring the next generation of "small d" democrats everywhere. "I really appreciate that despite his position and worldly experience, he always had time to talk with younger staff and engage in meaningful conversation," remembered Catherine Barnes, IFES Vice President for Global Growth and Outreach, as she reminisced on her own early experience at IFES. "He was always very dedicated to mentoring young people, both in the U.S. and globally; he was very committed to raising future political and economic leaders."
Former IFES Chair Peter Kelly observed that Manatt "believed that investing in the next generation of leaders was the right thing to do and devoted his time and resources to make it a reality."
Kelly also noted that Manatt had "the exceptional ability to work across the aisle in the U.S." Manatt's legacy of bipartisan support for freedom in the world lives on today at IFES.
Given this legacy, IFES is proud every year to honor three exceptional men and women who, like Manatt, share a common dedication to freedom and democracy – a Republican, a Democrat and a member of the international community – with the Charles T. Manatt Democracy Awards. These awards also reflect another one of Manatt's core principles: support for democracy and the human aspiration for freedom transcends partisan politics and national borders. It is an ideal that, according to Manatt, all of us have the responsibility to nurture, safeguard and respect.
Learn more about the 2022 Charles T. Manatt Democracy Awards here.
Published June 13, 2022.