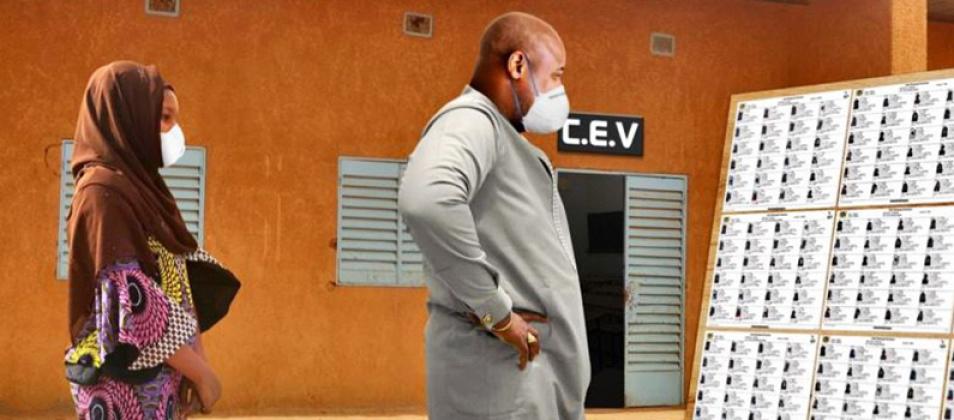 COVID-19 Disrupts Elections Across Africa
African elections face the likely prospect of disruptions over the next two years due to the novel coronavirus. Egypt was the first African country to report a COVID-19 case in Africa on February 14. By May 21, 100,330 cases had been reported, with South Africa, Egypt, Nigeria, Morocco, Algeria and Ghana reporting the highest number of cases. With the pandemic showing no signs of slowing down, African elections are facing major challenges preparing for safe, timely and credible elections. Per the African Union, 18 countries are scheduled to hold elections in 2020 and an additional 13 are planned for 2021. Amid the uncertainty about COVID-19, Guinea and Mali resisted pressures to postpone their elections, which took place on March 22 and March 29, respectively.
Recently, African countries have had major challenges implementing public health measures such as social distancing. With in-person elections the only option for most countries, the International Foundation for Electoral Systems (IFES) encourages election management bodies to work with public health authorities to explore how elections can take place with the appropriate measures put in place in a new paper, IFES COVID-19 Briefing Series: Safeguarding Health and Elections.
Disruptions to African Elections
Ethiopia became the first African country, on March 31, to postpone parliamentary elections due to COVID-19. At the time of writing, Cameroon's by-elections, Gambia's by-elections, Ghana's party primaries, Kenya's by-elections, Libya's municipal elections, South Africa's by-elections, Tunisia's municipal elections and Zimbabwe's local by-elections, among others, have been postponed. While countries such as Burundi, Malawi, Tanzania, Côte d'Ivoire, Burkina Faso, Ghana and Niger continue with electoral preparations, these preparations are being upset with delays and cost more.

With African economies already stretched by the pandemic, IFES has identified three major challenges stemming from the shifts in the African electoral timetables: 1) logistics and preparatory efforts to organize timely elections, 2) engagement of international observers and acceptance of results, and 3) increased costs of elections.
Logistical Challenges
In response to COVID-19, countries have been developing health precautions that impact the logistics and preparatory efforts to organize timely elections. For example, Ghana is preparing special cleaning measures for voter registration machines to limit the spread of the virus, while Niger has had to temporarily suspend registration in the capital because of COVID-19. In the midst of health emergencies, planning and execution of electoral plans need major adjustment. Competing demands for sufficient quantities of personal protective equipment will need to be factored into planning. Staff recruitment will be adversely affected, and require adjustment, as staff may feel reluctant to work during the pandemic due to increased exposure. No training of polling officials is taking place in some countries due to national restrictions on the number of people who can gather in one place or local travel limitations, which vary widely across Africa. Pressures to combine online training with classroom training is evident. These risk both timelines and insufficient training of officials as they deploy to polling stations. Revisions to electoral timetables need to be discussed and communicated clearly to all stakeholders involved.
Legal Challenges
The disruption of electoral timetables impacts not only technical preparations, but also increases the risk of constitutional and political consequences. Of great concern is the potential for postponement of elections, which raises a series of political considerations that include, but are not limited to, the following:
Raised stakes for political contestation by increasing tensions around possible extensions of terms of office;
Impact of state of emergencies that restrict election campaigning;
Power held by the executive if parliaments are not in session;
Uncertainties over diaspora voting impacted by those countries where foreign missions are under pandemic restrictions; and
Gaps in law on electoral emergency provisions brought on by COVID-19.
Regional protocols such as those in Economic Community of West African States recommend that no major changes to electoral laws are made in the last six months ahead of an election. Given the pandemic, higher courts such as constitutional courts, need to pronounce their interpretations of Constitutions considering such points. IFES notes that timely legal reform will have to tackle gaps in the law regarding public health emergencies and this will demand inclusion and public consultation in the electoral decision-making process.
Reduced Election Observation
With international travel restrictions worldwide, the ability of the African Union or other international groups to observe elections are dramatically restricted, which may impact the acceptance of election results. For example, Burundi held a presidential election, legislative elections and district council elections on May 20. Burundi had already informed international observers that they would be subject to a mandatory 14-day quarantine. Though not explicitly stated, in effect, the quarantine prevented the elections from being observed by international observers. The absence of international observers will increase the pressures on domestic observers to oversee the party primaries, election campaigns and voting process; check the credibility of results tabulation; and monitor the compliance of the election management body, media and political parties against the legal provisions, as well as regional standards and practices for credible elections.
Increased Costs of Elections
Finally, COVID-19 will impact the costs of elections in a multitude of ways. Increased costs include personal protective equipment, such as hand sanitizer and face masks, that will have to be procured and distributed to polling stations. Training materials needs to adopt provisions around health measures, adding to the materials and time needed. Additional costs will have to be incurred to sensitize voters, encouraging them to vote and assuring them of the safety of the process. Disrupted supply chains and the complexities of delivering bulk electoral materials in a safe and timely manner will also add to the costs of elections. African elections also risk lower voter turnout during the pandemic, due to fears or uncertainties around the elections. With fewer voters going to vote, the cost of elections increases, as the same service needs to be provided regardless of turnout. New budgets will have to be developed to factor in additional costs and delays.
African election management bodies will need to put the health and safety of voters first while ensuring the integrity of elections that are transparent, inclusive and credible.
Recommendations for Holding Elections
IFES recognizes that the pandemic raises unique challenges never faced before for elections. As such, IFES recommends the following key steps are put in place:
Communicate and coordinate with competent public health authorities and experts
Prevent or mitigate person-to-person interaction during electoral activities
Prevent or mitigate the contamination of common surfaces and objects by infected individuals
Prevent or mitigate individuals' exposure to contaminated surfaces and objects
Increase the amount of public engagement with stakeholders on electoral preparations
With the likely need for elections to continue to adapt to the COVID-19 virus over the next two years, the onus on African election management bodies will be to put the health and safety of voters first while ensuring the integrity of elections that are transparent, inclusive and credible.