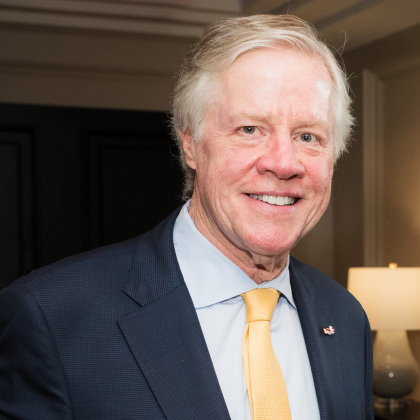 Eacho Elected New IFES Board Chair
The International Foundation for Electoral Systems (IFES) is pleased to announce the election of Ambassador William C. Eacho as Chair of its Board of Directors. The Board also affirmed the continued service of Ambassador J. Kenneth Blackwell as Co-Chair. 
The Board also voted for June Langston DeHart and Ambassador Theodore Sedgwick as Vice-Chairs, Garvin Brown as Treasurer, and Randal Teague Sr. as Secretary.
The Board also voted to approve Judith Kelly, Dean of the Sanford School of Public Policy at Duke University, as its newest member.
These decisions were taken at a meeting of the IFES Board of Directors on March 14, 2022.
"It is an honor to serve as Chair during a time when the democracy community worldwide is doing its most creative thinking in response to challenges around the world," said Eacho. "I am excited to support IFES as we continue to drive innovation and build resilient democracies that deliver for all."
"It is a privilege to continue to serving as co-chair of the IFES Board of Directors," said Blackwell. "This will be an important year for IFES's mission, and I continue to support this important work however I can."
"The IFES board is fundamental to the success of our mission," said IFES President and CEO Anthony Banbury. "Our board shows what can be accomplished when we recognize our common commitment to democratic freedoms. It is an honor to work with this outstanding group of leaders."
Outgoing Board Chair Thomas A. Devine will continue to serve on the Board of Directors.  
"I am grateful for Mr. Devine's service to IFES," said Banbury. "His leadership has been critical to the implementation of IFES's strategic plan and resultant growth."
 Learn more about IFES's Board of Directors here.