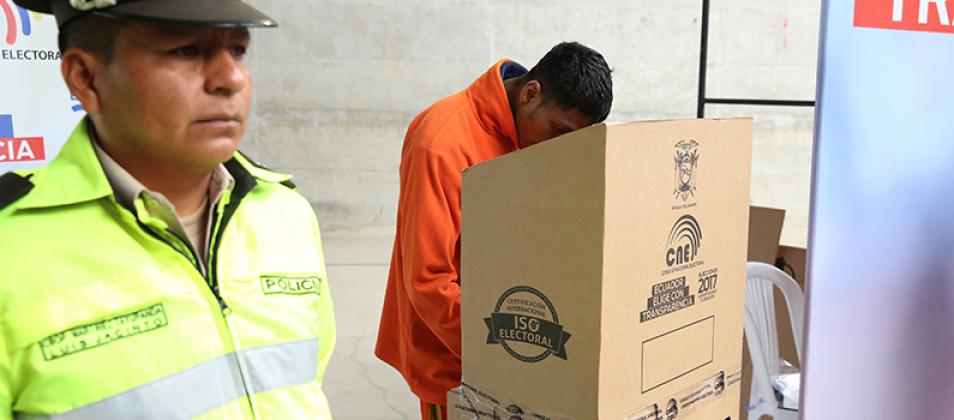 Ecuadorians Go to the Polls Sunday
Ecuadorians will vote in general elections this Sunday, February 7, a pivotal moment for the country's political direction and future leadership. With 16 presidential candidates, 137 available seats in the National Assembly and five in the regional Andean Parliament, the outcome will guide approaches to major national issues, including the economy, national security, public health, the COVID-19 crisis, international relations and migration. The exigency of the elections' cyber integrity was compounded after a string of alleged cyberattacks against Ecuadorian government institutions in the past few years, making cyber resilience a priority.
The International Foundation for Electoral Systems (IFES) began its "Building Technical Capacity and Public Confidence in Ecuador's Electoral System" program in October 2020 with the generous support of the United States Agency for International Development. Following their signing of a Memorandum of Understanding on November 12, 2020, IFES and the National Electoral Council (CNE) began a joint effort to strengthen and guarantee the transparency, credibility and integrity of the elections by enhancing the CNE's cybersecurity capacity, infrastructure and resilience.
To this end, IFES is leveraging its international elections experience and global methodologies to help the CNE identify and address any potential vulnerabilities in its cybersecurity, data security and related electoral operations. In preparation for the February 2021 elections and a possible second round in April, IFES has complemented the CNE's ongoing efforts with technical and material assistance, web development, internal cyber-hygiene trainings, brokering of key information technology partnerships and other key areas of support.
Following the 2021 elections, IFES will continue to work with the CNE on strengthening its longer-term institutional cyber resilience and preparedness for future electoral cycles in line with international good practice. IFES will also examine larger issues within the Ecuadorian electoral process and framework, such as the use of social media in electoral campaigns.
Learn more about IFES' programs in Ecuador and follow @IFESAmericas on Twitter.
Published on February 5, 2021. Updated on April 9 to include an infographic for the second round on April 11.